As part of its regular convocation, Chapter of Harmony No 220 celebrated David Marley's 50 years in the Royal Arch. The meeting was opened by the three principals and they conducted the routine chapter business in due form before engaging in the main event of the evening.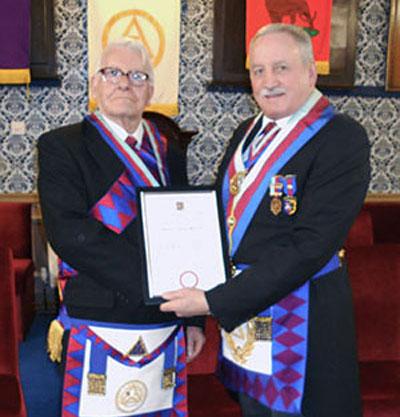 First principal Rob Jones invited Assistant to the Provincial Grand Principals Sam Robinson to accept his chair, which he duly did. Sam explained that the night was to celebrate a companion reaching a milestone in his Masonic career, that of 50 years of being a member of the Royal Arch. The number of companions present on the evening was not only a good number but was also a reflection of the love, esteem, respect and admiration that they all share for the celebrant David Charles Marley, Past Provincial Grand Scribe Nehemiah.
David Marley was born in February 1941. He attended Broadgreen Road Junior School at the age of seven and then moved onto Highfield Secondary Modern where he passed the 13 plus and then went to Ellergreen Road Commercial where he gained four A Levels and eventually left in 1959 (and would have been 18 then).
David began work as an insurance clerk with the Legal and General Assurance Company and later as an invoice clerk with Pilkington Brothers. He realised his future was not as a clerk and attended Chester Training College and qualified as a teacher in 1963. He had a varied teaching career, finally moving to Halewood in 1969, appointed Deputy Head of Rosheath School and eventually spent 22 years as Head Teacher of New Hutte Junior School until his retirement in 1995.
In 1961 he was appointed a Justice of the Peace, sitting in St Helens Magistrates Court for 29 years and in 2006 he was elected chairman of the bench for three years.
He was exalted into Royal George Chapter No 4119 on 18 March 1970 and then joined Aigburth Chapter No 4103 in 1975 and was first principal in 1981 and 1989 and then joined Chapter of Harmony No 220 when the Aigburth Chapter surrendered its warrant .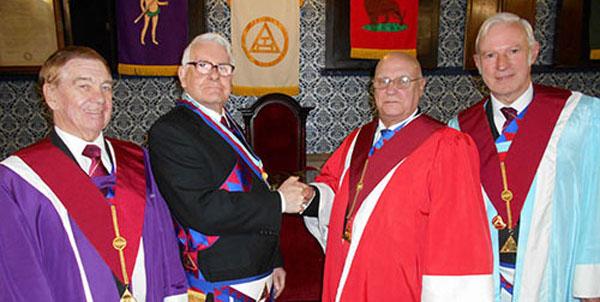 Following the review of David's achievements, Sam requested the Garston Group Chairman John Murphy to read the celebration certificate before presenting it to David.
After everyone had congratulated David on his achievement and with the remaining business of the evening concluded, the three principals closed the meeting.
At the festive board which consisted of a three-course meal and after the main toasts were completed Howard Griffiths made a short speech in which he congratulated David on his achievement, stating that he had made many friends and had been a Mason for more than 53 years. He continued by saying that David was an excellent ritualist and had been the secretary of Trinity Lodge No 3257 for a number of years.
David thanked Howard for the toast and he made a short speech in which he explained that he did not realise it was 50 years and how he enjoyed his time in Royal Arch. He then mentioned that in 1986 on a tour to the Holy Land he visited the Second Temple. First principal Robert Jones on behalf of the chapter presented David with a fountain pen gift set.
All in all, the evening had been a wonderful and dignified celebration.