After two highly successful years as head of Barrow Lodge No 3928 David Ingham has bowed out and handed over the reins to Derek Worrall.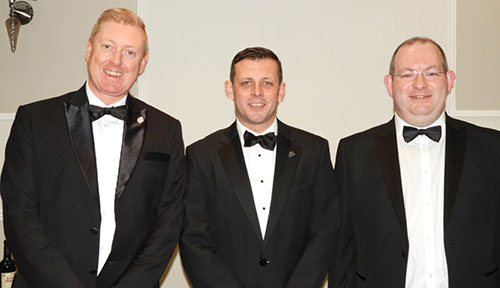 David has proved an outstanding ambassador for the lodge being a regular visitor at the other lodges within the Furness and South Lakeland Group. The fact that he entered a second year in that role did not dampen his enthusiasm for carrying out his duties to the full or lessen his support for the many social functions organised by his fellow masters in office. He can reflect on his two terms in office with great pride.
There were 90 members and their guests present at Barrow-in-Furness Masonic Hall to observe the proceedings. The principal guest was Barrie Crossley and accompanying Barrie was Furness and South Lakeland Group Chairman Peter Schofield together with acting Provincial grand officers Barry Fitzgerald and Reg Wilkinson.
They were able to observe David install Derek as his successor with all the accuracy, sincerity and delightful delivery with which he has become associated. It is Derek's second visit to the chair of Barrow Lodge as he previously undertook that role five years ago.
Lodge secretary Tony Cassells not only had the administrative duties to take care of but also delivered the working tools of an installed master and later gave the address to the newly installed master.
The address to the wardens was delightfully orated by John Quiggin, whilst Barrie was called into action to give the address to the brethren of the lodge, which he accomplished in fine style.
As has become a tradition, lodge stalwart Oliver Chalker addressed the director of ceremonies and his deputy as to their duties. As always it was a pleasure to listen to. The newly appointed deacons had their responsibilities detailed to them by Reg.
It was again very pleasing to witness the working tools of the three degrees being presented and explained by junior lodge members. Mike Cosgrove performed that role in respect of the third degree tools, Allan Ritchie the second degree tools and Neil Murray the first degree tools. This trio of light blues proved very able in their work and later received great plaudits for the quality of their performances.
To mark the occasion, Derek presented Barrie with a cheque for £500 in favour of the Masonic Charitable Foundation 2021 Festival.
Following the formalities of the installation ritual a very agreeable meal was enjoyed in the Fairfield Suite in the hall.