For the installation meeting of St Michael's Chapter No 5756 held at Park Hall Hotel, Charnock Richard the chapter was honoured by the presence of Deputy Grand Superintendent Paul Renton as their principal guest.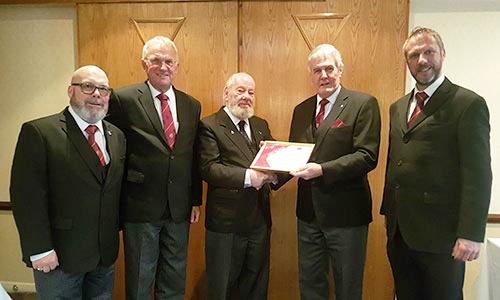 Paul was accompanied by Assistant to the Provincial Grand Principals Tony Hall, Ormskirk and Bootle Group Vice Chairman Malcolm Alexander, grand officers Brian Fairhurst and Philip Gunning and acting Provincial grand officers, David Case and Barry Dearden.
The meeting commenced with the acting first principal Jason Nash opening the convocation, with his companions; Andrew Cunningham the second principal and Derek Midgley the third principal.
Once the initial business had been completed, the acting DC David Rawcliffe announced that Paul Renton was without and demanded admission. Paul was then brought into the temple in a procession.
After Paul was warmly welcomed by the three principals to the chapter, the installation ceremony commenced with the companions of the chapter and visitors witnessing David Smith, Derek Midgley and Robert Midgley being installed as first, second and third principal respectively. With Derek having the privilege to be able to install his son Robert as third principal during the ceremony.
The blue robe address was delivered by Neil Brown, in a confident and superb manner.  At the conclusion of the ceremony Paul brought the greetings and congratulations on behalf of Grand Superintendent Tony Harrison, congratulating the three principals. Paul then thanked Jason Nash, commenting on the excellent job he had done that evening and David Rawcliffe for the way he had conducted the chapter and all the companions involved in the enjoyable ceremony.
David then presented Paul with two cheques on behalf of the chapter for charities; £375 to the West Lancashire MCF 2021 Festival, making the chapter a Patron of the Festival and £100 to West Lancashire Freemasons' Charity (WLFC). Paul thanked the companions on behalf of the recipients for their generosity, before having the privilege to present David with the chapter's Patron Certificate for the MCF 2021 Festival.
Following the convocation the members and guests retired to a very enjoyable festive board, where a successful Chorley raffle was held, raising £110 which will be donated to charities at a later date.