Wyreside Lodge No 2605 were pleased to honour David Ainsworth as he celebrated 60 years as a Freemason since his initiation in 1962. The ceremony was conducted by Past Assistant Provincial Grand Master Keith Kemp, standing in for Assistant Provincial Grand Master Peter Schofield. Keith was accompanied by Provincial Deputy Grand Director of Ceremonies Dave Boyes, Provincial Junior Grand Deacon Dave Shaw, Neil McGill Chairman of the Lancaster Group and group vice chairman Scott Devine.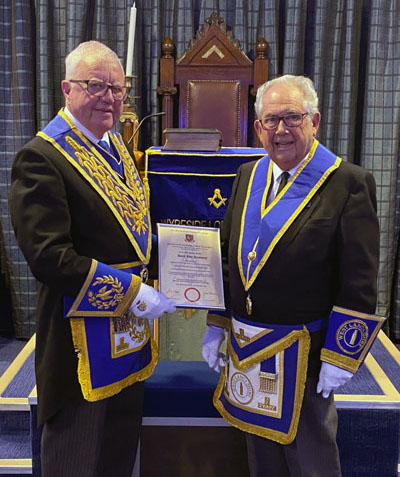 Keith was conducted into the lodge, where he was introduced to the acting WM Steve McClintock. Steve offered him the master's gavel, which he duly accepted. Keith requested the Provincial Deputy Grand Director of Ceremonies to escort David Ainsworth to a seat in front of the podium so that he could relay David's life and Masonic career to the brethren.
David was born in September 1937 in Preston, Lancashire. He attended St Matthew's Primary School and Fishwick Secondary Modern Schools in Preston until, at the tender age of 14 years, he left school and began work in his father's garage in Preston. David was called for National Service and served two years in the RAF, stationed at Padgate and Wilmslow. In 1966 following National Service, he purchased a launderette in Deepdale Road. Over the next few years David extended this business by purchasing a further four launderettes in the Preston area and remained in that business until his retirement.
David qualified as a certified CORGI gas fitter in the late 1970's, in order to look after the boilers and gas fittings in his shops. The shops were a mixture of service washing and self-service machines. They handled hairdressers' towels and football kits in the service area, as well as washing for individual clients. At one shop he provided a dry cleaning service which became very popular.
Influenced by the fact that his father was a member of Preston Golf Club, David took up the game himself and became a junior member of the same club for the princely sum of £2 5s in old money, £2.25p brethren for anyone unable to recall those days. David remains a member to this day and has been so for over 70 years.
David won the club's Captains Prize in 1955 and has won the Scratch Medal six times. He has also won many other club competitions and still enjoys playing a few holes with friends when the opportunity arises. He played for Lancashire Colts for a number of years and achieved an excellent handicap of 1. Such a low handicap would have enabled him to play in most major amateur tournaments and he embraced that opportunity by playing in the English Amateur Golf Championsip several times. In 1964 David reached the semi-finals of the championship where he was beaten by Dr David Marsh who was regarded by many as the best amateur golfer this country had produced.
Golf not only provided David with great enjoyment and considerable success, but more importantly introduced him to his wife, Janet. They met at Preston Golf Club in 1962 and were married in 1964. David was later blessed with two daughters, Pamela who was born in in 1965 and Susan who was born in 1970. Pamela works as head teacher at a British school in Gran Canaria and he has enjoyed many holiday visits to see her there. Susan studied geograpy at university and now works in Medical Training. She met her husband through dalsa dancing and was married in 2008. David is now the proud grandfather of two wonderful grandchildren, Maxwell, who is 12 and Ariana, who is 5. They now live together at his home in Preston where the grandchildren have kept him extremely busy since Janet passed away in 2007. In his free time David enjoys gardening and spends as much time as he can in his garden.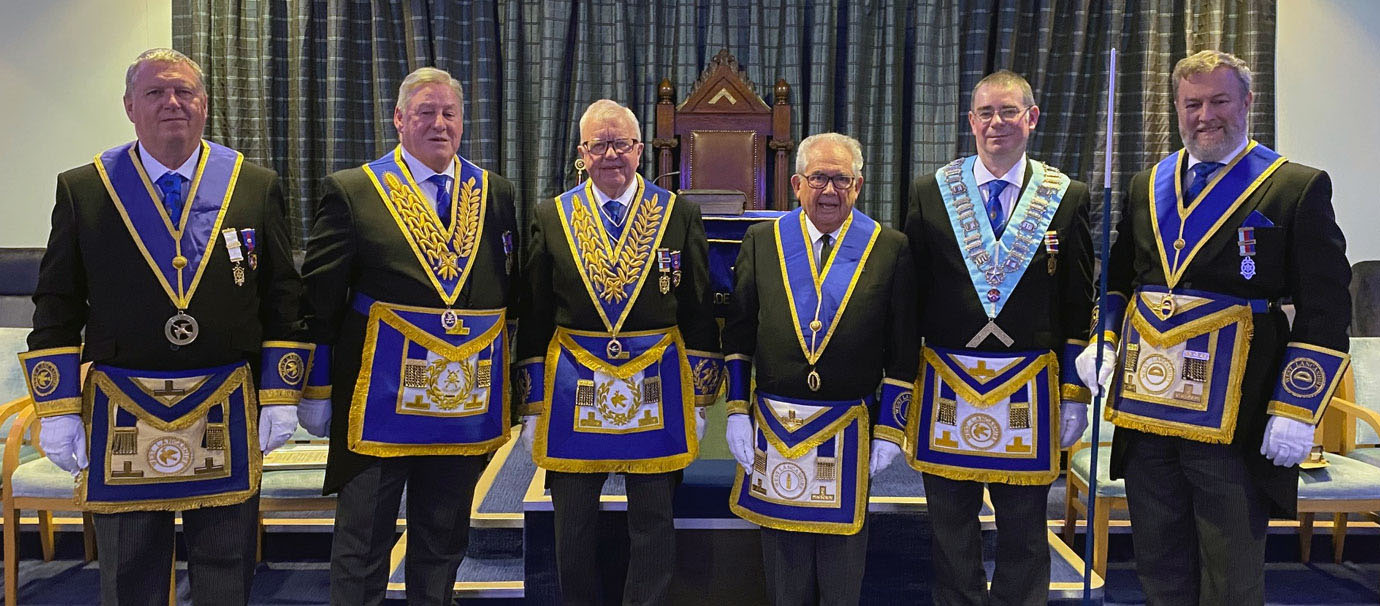 David's Masonic journey began on 20 March 1962 when, poor and penniless, he was initiated into Wyreside Lodge. He was proposed into Freemasonry by his father, who had joined Wyreside Lodge in 1937 and was installed as WM around 1954. He was a member of the lodge for approximately 55 years until he passed away. David was seconded by Edgar Enion a past master of the lodge.
An extract from the minutes of David's initiation ceremony were read our by the lodge secretary, Steve McClintock.
 David served through the various offices of the lodge and was installed into the chair of King Solomon for the first time in February 1975, later holding office as almoner from 1981 to 1983; assistant director of ceremonies from 1983 to 1986; chaplain from 1987 to 1989 and treasurer from 1989 to 1993. In 2009 David was appointed junior warden for the second time, progressing to senior warden and then, on 15 February 2011, David was installed as WM of the lodge for the second time.
David's outstanding contribution to Freemasonry within the Province of West Lancashire was recognised in 1987 by his appointment as Past Provincial Junior Grand Deacon and promotion on the 12 October 1995 to Past Provincial Junior Grand Warden.
In the Royal Arch, David was exalted into Scorton Chapter No 5791, on 27 February 1989 but unfortunately found it necessary to resign from the Chapter in November 2006. David is also a member of another Masonic Order.
Neil McGill was requested to read out the inscription on David's certificate which was then presented to him to commemorate his very special day.