The long-awaited day finally arrived. Corinthian Lodge No 2350 has been meeting in Hindley since 1890 and is a lodge steeped in history and filled with character and determination. That determination was exemplified, when, not put off by the fact that their regular meeting place, Hindley Masonic Hall, was closed during the restrictions, they managed to meet by dispensation at nearby Pemberton Masonic Hall.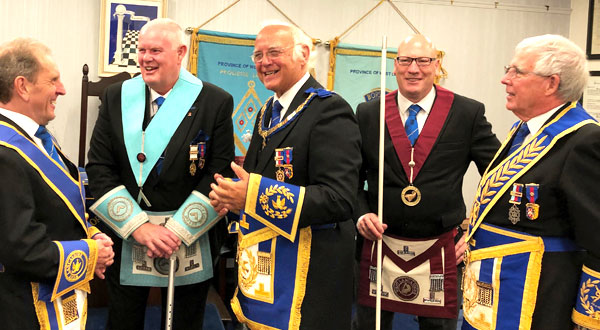 Emerging from lockdown, having missed the regular installation date in April, it was re-arranged by dispensation on the first opportunity, back at Hindley Masonic Hall, to put Darryl Grundy in the chair after an unscheduled wait. Installing his successor was lodge elder statesman Stanley Fairhurst, who has held the reigns since his installation in April 2019, when he celebrated 50 years in Freemasonry. Typically, with Stanley bringing his wealth of experience.to proceedings, it was a fine ceremony enjoyed by all present. With lodge director of ceremonies Eddie Atherton orchestrating proceedings, ably assisted by past masters and brethren of the lodge, everything was performed to the highest possible standard.
The principal guest was Assistant Provincial Grand Master David Ogden, who was accompanied by Wigan Group Chairman Geoffrey Porter and fellow grand officer John Wrennall. They were attended by acting Provincial grand officers, led by deacon Frank Laird with stewards Phil Hughes and Mike Purcell also on duty.
Darryl is well known throughout the group and much further afield and is a regular and popular visitor. Such is his popularity the installation attracted brethren from East Lancs, Cheshire as well as Cumberland & Westmorland. Darryl, now retired, spent his working life as a police officer with the British Transport Police. With a passion for rugby, he played for Wigan RUFC before moving on to the professional code.
Following his installation, Darryl was pleased, on behalf of the lodge, to present the principal guest with cheques as donations in favour of the following charities; £1,000 to the MCF 2021 Festival, £400 for Hindley Masonic Hall and £100 to Prostate Cancer.
All the members and guests enjoyed the festive board, in the lively and friendly manner for which Hindley is renowned. A raffle raised £206 for future donation. Hindley's musical duo, known affectionally as 'Hinge & Bracket', in the persons of Frank Jones and Neil Whittle put a smile on the faces of all present with their own inimitable rendition of the master's song.
It was Darryl's day, and what a day it was. Another page was written in the history of this prestigious lodge.