The meeting of Stanley of Bickerstaffe Lodge No 3511 at Ormskirk Police Station, sorry 'Masonic Hall', was opened by the WM Neill Stewart and his regular officers and over 70 brethren and honoured guests, including a Cumbrian contingent of John Wrennall from Ambleside Lodge No 2745 and Chris Gray, Les Stove and Keith Powell from Bela Lodge No 7576 who were present to pay tribute to Peter Smith and his illustrious Masonic career.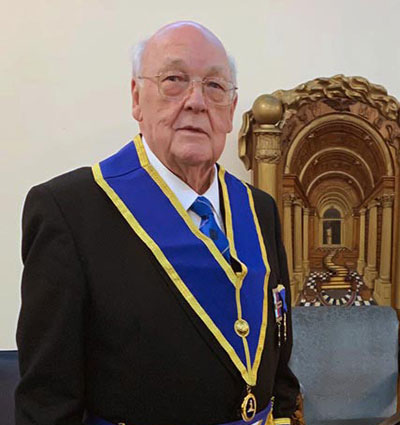 But the first duty was to hold a ballot for Deputy Provincial Grand Master Phillip Gunning as an honorary member of the lodge that he had been involved with for over 40 years. Wholly expectantly, the ballot proved in favour.
Neill warmly welcomed Phillip Gunning, accompanied by Assistant Provincial Grand Master Frank Umbers, grand officers Neil Latham, John Wrennall and Malcolm Alexander. Also forming part of the procession were vice chairman of the Ormskirk and Bootle Group Derek Midgley and acting Provincial grand officers Fred Dickinson, Richard McHale and Jim Carrie. They were all under the watchful eye of Provincial Deputy Grand Director of Ceremonies Ryan Modlin.
Neill invited Frank Umbers to occupy the WM's chair, which he accepted and asked that Peter Smith be seated before him. Frank delivered some excellent facts from Peter's life as a police officer, as a family man, and a man with many outside interests and hobbies which included some illuminating history of the area which must have involved deep research.
Peter was first initiated into Freemasonry as a member of Beacon Lodge No 6072 in March 1973, rising to WM in November 1988, and receiving his first Provincial rank in May 1998 as Past Provincial Senior Grand Deacon.
After the unfortunate closure of Beacon Lodge, Peter joined Lodge of Harmony No 580 as treasurer, receiving a promotion to Past Provincial Grand Superintendent of Works in October 2008 and in 2014 to Past Provincial Junior Grand Warden.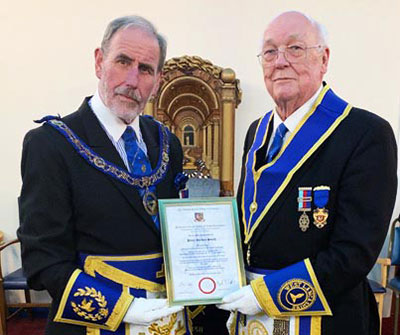 Peter moved on to Stanley of Bickerstaffe Lodge in 2015, being installed as WM in 2017. In April 2019 Peter justly received a further promotion to the very high rank of Past Provincial Senior Grand Warden for his tireless and continued service to his lodge, Masonry in general and his outstanding contribution to Ormskirk Masonic Hall in his capacity as association secretary for four years and chairman for five years. All who dine at the hall will forever be thankful to Peter for his major role in securing Gary O'Brian as chef and caterer. Peter is also involved with Royal Arch Masonry and many other Masonic Orders.
Frank concluded his oration to Peter, remarking that Peter, the man, was truly an example to us all for his commitment and devotion to his family, service to his community, hard work and success in his career of over 50 years of selfless dedication to Freemasonry.
After Neill regained his chair and closed the lodge, the brethren and guests retired to the dining room where they were in for a belly-busting festive board of Scotch broth, mixed grill and cheese board, that is if they had any room left!
The toast to Peter was given by Geoff Leaver, a personal friend, and Kevin Chicken from the lodge, who both had incidentally learnt from Peter how to consume large quantities of alcohol, and in Peter's response he promised to keep it short – well, for those who don't know Peter, that was never going to happen.