County Palatine Lodge No 2505 held its first meeting in almost two years on, with a good attendance of 44. It was held at the Masonic Hall in Southport as their normal home, the Royal Clifton Hotel in Southport was undergoing repairs, how long for nobody knows.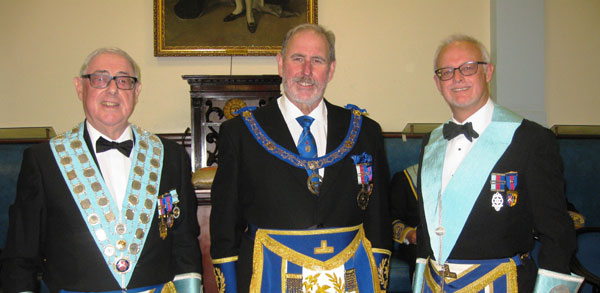 At this installation meeting, the principal guest was Assistant Provincial Grand Master Frank Umbers. Frank wasn't the only assistant there as Mark Matthews was also there as he is a member of County Palatine Lodge.
They were there to witness Phil Stock being installed into the chair of King Solomon by his predecessor Maurice Evans. Phil is well known in the Southport Group having just given up the job of vice chairman of the group.
The ceremony was duly completed and Phil was acclaimed as the master for the ensuing year. Frank congratulated the installing master and all concerned with the ceremony, including the ADC who all the work seemed to fall on, despite his bad back!!
Phil Stock concluded the ceremony by donating £2,505, the lodge number, to various charities, noting that the lodge had paid their Festival dues.
The lodge reconvened downstairs to the dining room for a very enjoyable meal. Following the meal Frank gave an address to all present thanking them for their attendance and support.