On a rather bleak and rainy Spring evening, almost 60 brethren travelled to the picturesque Silverdale Masonic Hall to be a part of a first regular meeting of the new specialist Country Pursuits Lodge of West Lancashire No 6615. The lodge is growing its membership through a shared vision of participation and enjoyment.

This is a travelling lodge of the South Fylde Group and will visit different Masonic halls within the Province during March, September and November. At the January 2023 installation meeting held at The Palace, St Annes On Sea this new lodge was formed from the previous Kirkham Lodge No.6615.
At that meeting and at this first regular meeting, a total of 11 former Kirkham Lodge brethren have been awarded honorary membership.  At the start of this regular meeting, a successful ballot for joining members saw the lodge membership swell by eight to 47 brethren. Towards the end of the meeting one new joining member was proposed and whilst in the festive board it became clear that two more brethren were completing the necessary forms, alongside another potential candidate for initiation. By the next meeting in September, Country Pursuits Lodge membership will be 50 strong and counting.
The main business of this first regular meeting was to initiate a candidate and at the appropriate moment, WM Mike Casey invited the candidate's sponsor Andy McClements to occupy the master's chair and an expertly delivered ceremony of initiation ritual followed, with Colin Hetherington being made a brother of this rapidly growing lodge.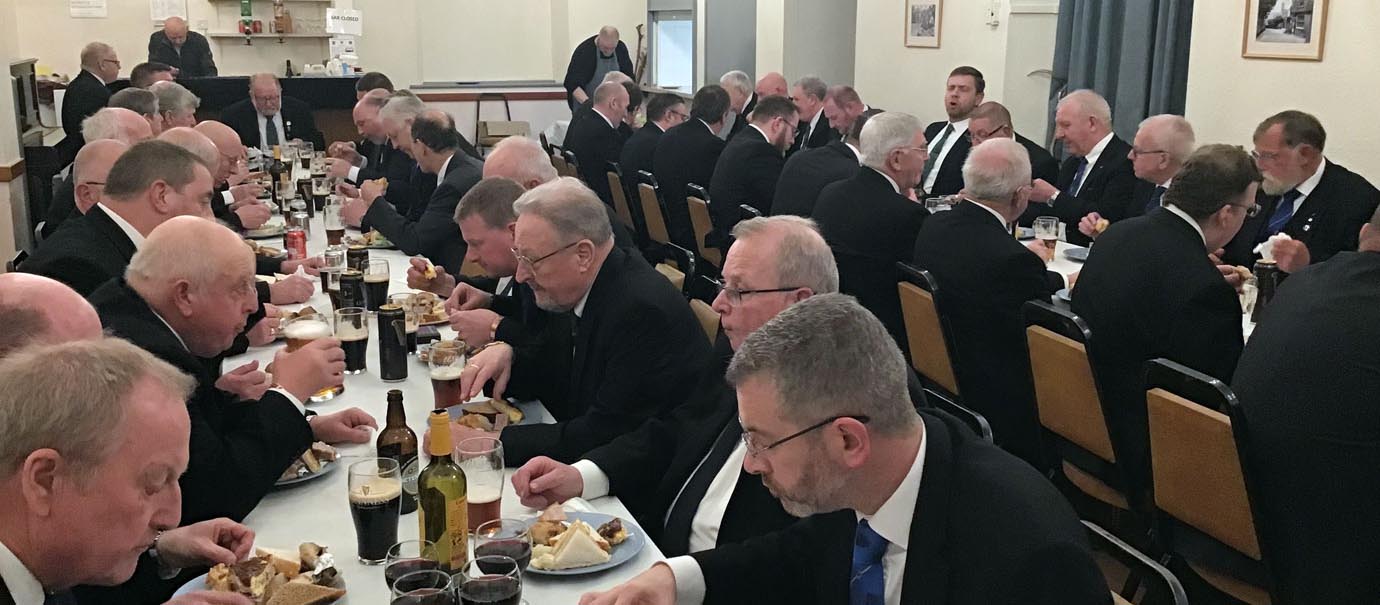 Throughout the ceremony, superb ritual was delivered by no less than nine brethren who are members of eight other lodges. At the completion of the ceremony two very well delivered presentations were given by Chris Tittley, lodge secretary and South Fylde Group Mentor and Nigel Parrish, Lancaster Group Mentor, who both supplied Colin with printed 'welcome pack' details of the ceremony that he had just been part of. Nigel went on to take Colin on a short, guided perambulation of the lodge, explaining its layout.
Colin's future ceremonies will be undertaken by brethren of Old Huttonian Lodge No.7614 in October 2023 and Great Eccleston Lodge No.8895 in February 2024 respectively.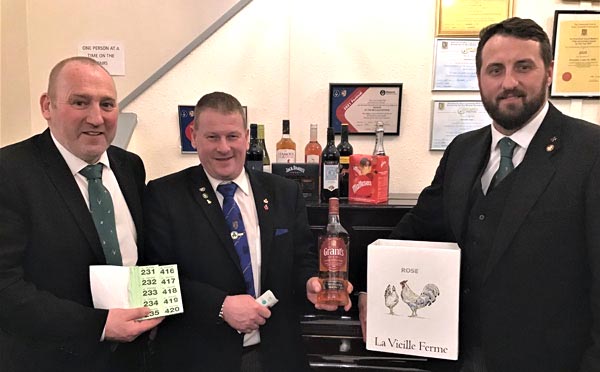 WM Mike Casey said: "I am delighted in the response of brethren wishing to join and the impressive numbers who have attended at both of our last two meetings. It has been a joy to have the company tonight of Tony Harrison, our former Provincial Grand Master along with Keith Kemp, our former Assistant Provincial Grand Master.  Keith has done so much over the years to raise the profile of fishing within the Province and for that we are all extremely grateful and look forward to Keith delivering a fishing masterclass presentation at a future meeting. I am certainly looking forward to a lively meeting at Garstang in September where we hope to be able to welcome a visiting speaker from a national Shooting and Conservation magazine."
The festive board was an impressive buffet of local food, during which a ticket raffle raised a massive £435, following a charity collection in lodge of £161.  The 'almoner's pig' is a bag passed round to collect loose change and this generated a figure of £32.50
In his toast to the candidate, Andy McClements highlighted Colin's interest in shooting and fishing as well as his busy life as Managing Director of a company that builds prestige houses. John Topping added to Andy's toast by reading out and then presenting a Pillars Certificate of Initiation that bears the quite moving poem entitled 'I heard a knock on the Temple Door'.
The new Country Pursuits Lodge of West Lancashire logo has been approved and enfaced by the Office of The Grand Secretary, the final artwork was designed by lodge member John Topping.