Convocation (from the Latin convocare: meaning 'to call or come together'. 60 companions from seven chapters heard the call from the group vice chairman Steve Jelly to come together to prepare for a joint convocation. Bispham with Norbreck Chapter No 4731 kindly volunteered to host the event.

The companions filled the top lodge room at Blackpool Masonic Hall. Also attending was a Provincial deputation led by the Deputy Grand Superintendent Paul Renton, supported by Assistant to the Provincial Grand Principals David Barr and an impressive collection of Supreme Grand Chapter and Provincial Grand Chapter officers, expertly organised by Provincial Deputy Grand Director of Ceremonies Jason Dell.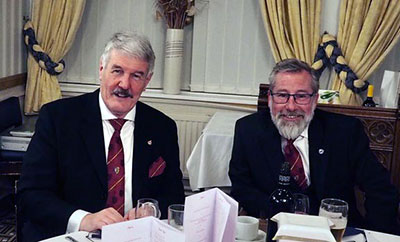 The chapter was opened by the first principal Robert Marsden; a double first for Robert, this being his first convocation as the first principal and his first joint convocation, both tasks being admirably administered.
After the conclusion of the initial chapter business, Jason Dell announced that the Deputy Grand Superintendent Paul Renton demanded admission. Paul and his entourage then processed into the chapter room. After being introduced to Robert, Paul settled into his chair to enjoy the presentation entitled; 'The Temple and the Vault'.
The assembled audience was then treated to a wonderful presentation from the companions of the various chapters of Blackpool with the 'joie de vivre' and enjoyment that the Royal Arch encourages. The presentation was delivered in a most entertaining and informative manner by the 15 companions of the team, inspired and led by the Blackpool Group Vice Chairman Steve Jelly, whilst the musical director George Holden provided inspired musical interludes.

On completion of the presentation, the chapter business was resumed and the chapter consequently closed. The companions retired to the Masonic Hall bar before enjoying a fine festive board in the dining room.
Paul Renton in his reply to the toast to Grand officers, expressed his delight at being able to attend the joint convocation, thanking Steve Jelly and the team for their hard work and Bispham with Norbreck Chapter for hosting the event.