The celebrations may have been virtual, but the honours real. The suspension of Masonic meetings meant that the annual investiture at Grand Lodge and Supreme Grand Chapter could not go ahead. This, of course. meant that those from West Lancashire (and further afield) who had received appointment or promotion in both Craft and Royal Arch could not actually be part of that wonderful spectacle at Great Queen Street.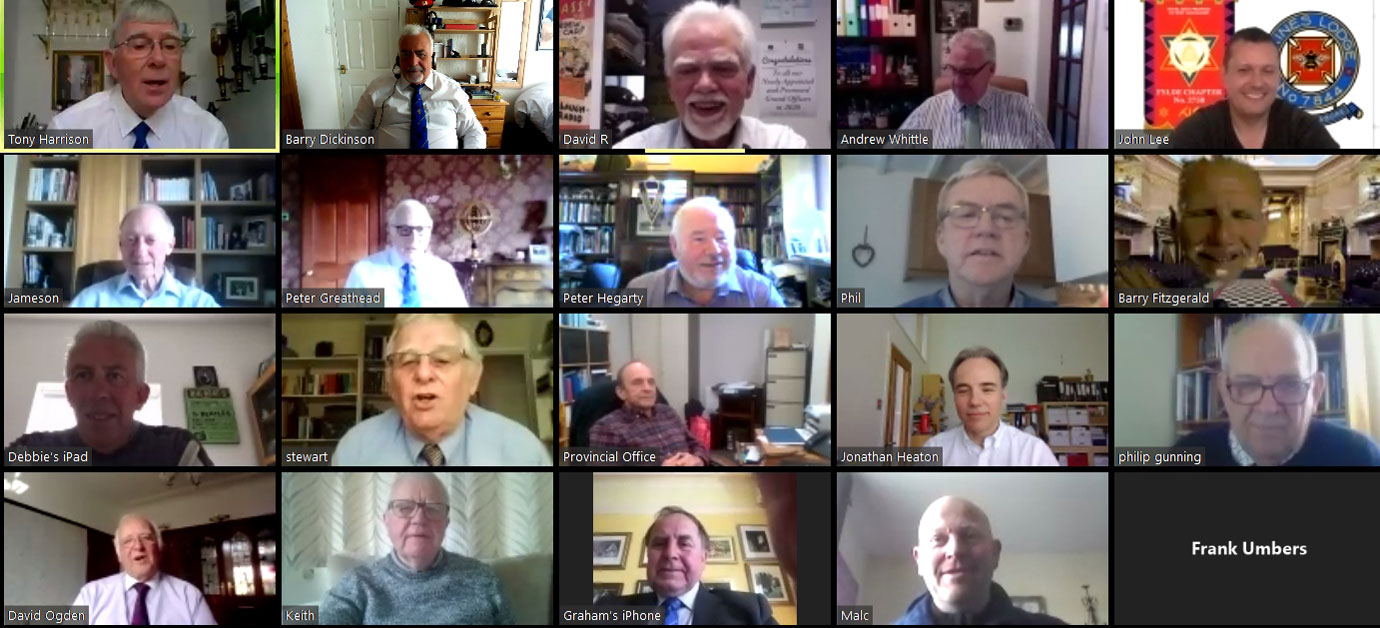 In what is a very great honour in anyone's Masonic career, it was very disappointing to the recipients not to be able to enjoy their special moment amidst the pomp and ceremony for which the investiture is famed. But we all understand that the world has its problems and we are all doing our best to see an end to this crisis, and a return to the more familiar pattern that we love so much.
On the morning of what would have been the day of investiture, each recipient received a letter from the Pro Grand Master or Pro First Grand Principal congratulating them, expressing his regret that they could not receive their ranks at the formal proceedings.
Receiving first appointments in Craft were:
Barry Fitzgerald of Semper Sursum Lodge No 5622 to the acting rank of AGDC.
John Lee of Baines Lodge No 7844 to PAGReg.
Graham Chambers of Crosby Lodge No 3714 to PAGDC.
Jonathan Heaton of  Lodge of Truth No 6235 to PAGDC.
Peter Hegarty of Coronation Lodge of Westhoughton No 7258 to PAGDC.
Phil Preston of Newby Bridge Lodge No 4598 to PAGDC.

Receiving promotions in Craft to the rank of PSGD were the four most recently appointed AProvGMs of the Province, Barry Jameson, Keith Kemp, Mark Matthews and Andy Whittle. Peter Greathead, Chairman of the North Fylde Group, was promoted to PJGD.
In the Royal Arch, first appointments were received by:
Malcolm Bell of Standish Chapter No 4955 to PGStdB.
Peter Schofield of Semper Sursum Chapter No 5622 to PGStdB.
Mike Threlfall of Jubilee Chapter No 5555 to PGStdB.
John Turpin of Blackpool Chapter of Fellowship No 7692 to PGStdB.
Completing the role of honour, Kevin Poynton of Chapter of Equity No 1384 was promoted to PAGSoj.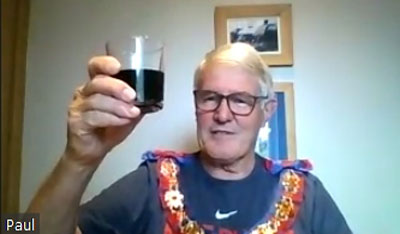 To mark the occasion, Tony Harrison invited the recipients to a celebratory get together with liquid refreshments, virtually of course, courtesy of Zoom. The first was with the recipients of Craft honours at the same time that the annual investiture would have started in London. Tony congratulated all the recipients in general and spoke to each one individually, before offering a toast of well-deserved honour and appreciation. Everyone had their say after which there was a good chat and friendly banter. Despite the distances between everyone, they were still able to enjoy a drink in each other's company and celebrate the special occasion.
The following day was to have been the investiture at Supreme Grand Chapter, and Tony followed the same format with the Royal Arch recipients and senior members of the Province who joined him on Zoom. It happened to be the birthday of Captain, now Hon Colonel Tom Moore, celebrating 100 years, and the first toast of the gathering was in recognition of his outstanding efforts in raising over £32,000,000 for the NHS. There were congratulations all round for those receiving their honours, and a pleasant celebration.
Tony finished both celebrations by wishing everyone well, and hoping that all and their families stay safe until we can all meet again.
It wasn't the same as being in London, but all those receiving these great honours will get a chance to wear their new badges with pride as soon as time and circumstances return us to the Freemasonry we know and love.