It was with a sense of anticipation that the members of Silver Jubilee Lodge of Installed Masters No 8818 in Southport, along with visitors and the group chairman Phil Stock as the WM, gathered to honour and celebrate George Wilkie's 60 years in Freemasonry.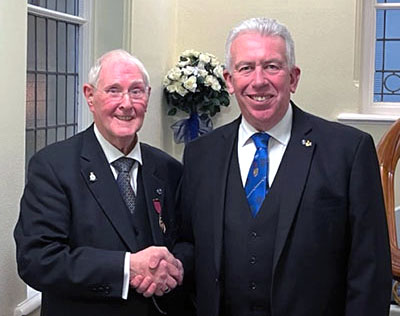 Further to that was the attendance of Brian Gilchrist who had travelled down from Scotland especially for the event, and is the current master of Lodge Torphichen Kilwinning No13, known as 'Auld 13', which is George's mother lodge.
Once the lodge was opened to the third degree, Provincial Grand Director of Ceremonies Mark Barton announced that Assistant Provincial Grand Master Frank Umbers was without and demanded entrance. Frank entered accompanied by lodge member, Provincial Grand Master Mark Matthews and his retinue.
Phil firstly offered the gavel to Mark, who refused it, then to Frank who accepted it and the brethren settled down to be entertained with a potted history of George's life history, both personal and Masonic. This culminated with a presentation of a Provincial certificate celebrating George's anniversary, by group secretary Paul Hardman. This was followed by Brian presenting a certificate from the Grand Lodge of Scotland, marking the same and visibly moving George at this unexpected turn of events.
After the lodge was closed, the brethren retired to enjoy an excellent meal at the festive board with plenty of wine on offer, courtesy of George, to all who cared to partake.

After the usual toasts, Frank gave a short speech in praise of an excellent and well-deserved ceremony. This was followed by a heartfelt toast by long-time friend Roy Crawford to George, who then had the opportunity to respond with thanks and humour to all the brethren and visitors.
The festivities ended with a large number of brethren gathering in the bar to reminisce on an excellent evening for a most popular brother.