Brethren of True Light Lodge of Friendship No 2963 gathered at Warrington Masonic Hall to celebrate Colin Daniels 50 years in Freemasonry. Principal guest was Kevin Poynton, accompanied by Dennis Rudd, Jack Forsythe, Gordon Amos and group chairman Andy Barton. He was assisted by Ian Halsall and Stephen Clarke.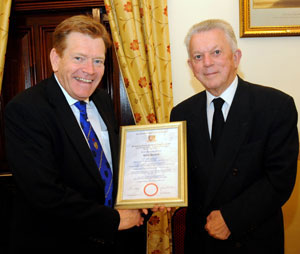 The lodge was opened with ease and smoothness, which is WM John Rutland's usual manner. One thing to notice in this lodge is that a smile is never far from the face of participants and friendliness is the norm. The gavel was offered to Kevin, who accepted for this celebration. He admitted the tyler to share in Colin's story.
Born in Warrington, Colin remained in his home town through childhood, eventually progressing to Sir Thomas Boteler Grammar School. This was a busy place for him, as he was a linesman, member of the first 11 cricket team, choirboy and thespian. As a choirboy, he was actively sought by rival churches, and obviously good at singing, as Lady Daresbury once slipped him a ten-shilling note for one song and he soloed during a broadcast of 'Songs of Praise'. Gilbert and Sullivan seems' to have been his forte, with amateur performances in their most popular operas.
The wide world of work beckoned, and Colin looked beyond the family business to Civil Engineering, where he joined the renowned (at the time) Arthur Monk and Company. Study delayed the inevitable National Service and during this time he met his partner, Norma. The day after they got engaged, he got his call-up papers.
Not one for the usual roles, Colin used his talents to become a 'Meteorological Assistant, Royal Artillery' as weather forecasts are a vital part of accuracy in long-range artillery. Posted to Celle, in West Germany, he was close to the remains of the Bergen-Belsen concentration camp, which he remembers clearly to this day. He personally witnessed the phenomena of its birdsong, which can be heard clearly outside the camp's wires, but is silent inside them.
Promotion followed; he became a bombardier and he was once a member of the detail taking service personnel to guard Spandau Prison and its infamous inmates Rudolph Hess, Albert Speer and Karl Donitz. Finally, he became acting sergeant. During this time, Colin managed to secure a two-week pass home, where he used the time well as he married Norma and took a honeymoon in Jersey.

Home again, to a house in Thelwall. Three children followed, Mark – who now lives in Edinburgh, Helen who now lives in Grappenhall and Catherine, who lives in Uttoxeter. His granddaughter, Georgina, is a very accomplished ice-skater and is a member of 'Altrincham Blades', who have recently won the British championship.
He has kept himself busy outside of family life: parliamentary candidate for Warrington North; Chairman (for 26 years) of Warrington Collegiate; Chairman (for 30 years) of Thelwall Infants School; governor of Thomas Boteler High School; governor of Green Lane Special School; Deputy Chairman of 'Warrington and Company' promoting Warrington to the world; past president of and treasurer to the National Builders' Federation and member of the Chartered Institute of Purchasing and Supply. Phew!
All of this work has been recognised by the University of Chester. For his outstanding contribution as a member of the university council he was presented with a doctorate in business administration followed by a fellowship from Warrington Collegiate. He is now the senior member of the university council.
It doesn't end with his public life. He is a Trustee of Warrington Charities Trust and an active supporter of the Army Benevolent Fund, for which he gives talks on the 'Mulberry Harbours' – the floating, portable harbours without which D-Day would have failed. Their Warrington connection is that some sections of it were built by his old company – Arthur Monk and Company. Colin is also Chief Executive of the Warrington Chamber of Commerce and Chairman of Warrington 2000 Plus Limited which owns and operate two buildings in Warrington, giving a helping hand to 'start up' business.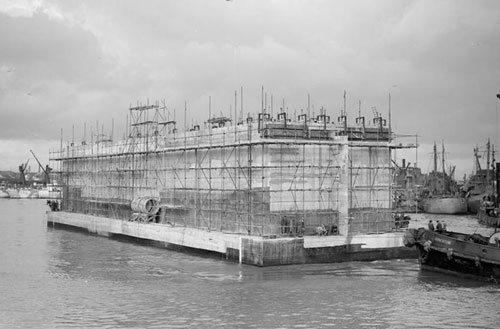 Colin has met the present Grand Master on a couple of occasions: firstly, when the Duke of Kent opened the new Warrington Collegiate, followed by a lunch together and secondly when Colin attended the Queen's garden party. They chatted about time spent in Germany (they served there at the same time) and shared meetings.
Masonically, Colin joined True Light Lodge No 7323 in 1968, but this wasn't in the present Winmarleigh Street Masonic Hall, this was in the upstairs room of the Pied Bull in Newton-le-Willows. The father of one of the evening's guests – Dennis Rudd – was WM of that lodge; Bro Sinclair, who was Dennis's uncle, was Colin's proposer and Dennis himself was probably senior deacon. To modern Masons, it can be surprising that Masonic ritual can be celebrated in a pub's spare room, but this tradition goes back to the formation of Grand Lodge in the Goose and Gridiron pub. There are still some lodges which use them.
Colin became WM in 1979, and in the same year presided over the lodge's 25th anniversary celebrations and also attended the Provincial Lodge of West Lancashire for the first time. In 1981 he attended the Royal Masonic Benevolent Institution for the 139th annual festival in February 1981 as a steward. The Province raised £3,268,528 for this good cause. The letter telling him of his appointment went as follows:
'Dear Brother,
You may not know it but you have today volunteered to be a special steward at the Festival on the 25th February. I have been asked to choose 12 handsome, intelligent, and active brethren who are going to the Festival unattached who would be willing to assist in dealing with our two and a half thousand guests and bringing order out of chaos.' 
Quite an invitation!
At the festive board following the ceremony, Kevin and Dennis toasted Colin (Dennis being a late replacement for Les Ashcroft, who was recovering in hospital).
In reply, Colin thanked the speakers and made special mention of one of the more peculiar highlights of his travels while seeking investment for Warrington business – the kissing zones for people parting from loved ones at Chicago's O'Hare airport. This is a special lane for dropping off your loved one at the airport if a more, lengthy farewell than a quick wave is intended. Very sensible solution. He continued to tell how his research on Warrington's Mulberry Harbour sections has now led to him joining the speaker's circuit, recounting this research.He concluded by wondering where the last 50 years had gone and remembering turning up for his initiation as if it were yesterday.

Story by Eric Miller, pictures by Eric Miller and Peter Gore.