The brethren of Vale Lodge No 5256 were honoured by the presence of the Assistant Provincial Grand Master David Grainger, on the auspicious occasion of celebrating Colin Martin's 50 years as a Freemason. David was joined by the Lancaster and District Group Chairman Neil McGill, grand officers Norman Thompson, Stuart Hughes, Keith Kemp, David Swindlehurst and Keith Jackson, as well as acting Provincial grand officers Reg Wilkinson, Les Newlands, Barrie Bray and Steve McKellar. Also in attendance was the Provincial Prior for Lancashire, of the Order of Knights Templar, David Gallear. This charismatic ensemble was adeptly orchestrated by Provincial Deputy Grand Director of Ceremonies Barry Fitzgerald.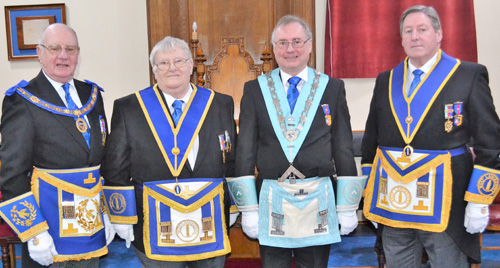 The WM Paul Taylor welcomed David, remarking that the lodge was "very honoured to receive him on such a special occasion". On accepting the gavel, David retorted that "as you know I usually cannot wait to hand this back, but on this very special occasion I will retain it". David began by stating that to be a member of anything for 50 years is always a cause for celebration, but to be a member of our organisation for that long is an example of commitment and dedication that really must be highlighted. It is therefore right to congratulate Colin on the occasion of his golden jubilee.
David then asked Barry to place the celebrant before him and having first made sure he was sitting comfortably, he opened his address by recalling the memorable events of 1943, the year of Colin's birth.
This was the time when the Second World War had just started to turn ever so slightly in favour of the Allies. In Russia, Stalingrad was retaken by the Soviet Army and the German 5th Army surrended, with several thousand men being taken in to captivity. Italy started peace overtures to the Allies and British and Canadian troops landed in Italy and Naples was taken. The German battleship Scharnhorst, the then pride of the German Navy, was sunk north of Norway.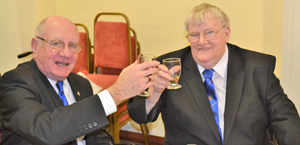 At home, the weekly food ration in 1943 for two people consisted of four rashers of bacon, 200 grams of meat, 50 grams of butter, 50 grams of cheese, three pints of milk, 200 grams of sugar and one egg. It was into this world, on the 16th June in Liverpool, that Colin and his twin brother Alan was born to David and Ethel Martin.
Colin's father was an electrical contractor, but was serving with the famous 'Desert Rats' when his twin boys were born. Their family home was in the Everton area of Liverpool, which was regularly bombed, so Colin's mother took the children to live with their paternal grandmother in Lancaster.
After the war, the family stayed in Lancaster and Colin went to school at Bowerham Infants, then Moorside Juniors and finally Skerton Secondary School. At the age of 14, Colin went to night school at Poulton College in Morecambe to study for his City and Guilds certificate in catering, which he successfully completed. At 16 years old, Colin went to Courtfield Catering College in Blackpool, at the time reputed to be the best in the country and after one year was awarded the Advanced Catering and Administrative Certificate.
When National Service called, Colin elected to join the Merchant Navy instead, working for Dutch Shell on their tanker ships. On leaving the Merchant Navy in 1962, Colin went to work at Beaumont Hospital in Lancaster as 'Cook in Charge', staying there until 1967. Over the years Colin worked in catering at the Rank Organisation at Forton Services, Lancaster University, Blackburn Royal Infirmary and then finally at the Royal Albert Hospital from 1976 until his retirement due to ill health in 1992. Whilst at the Royal Albert, Colin was appointed Mental Health and Food enforcement Officer within the Health Service.
In his personal life, Colin married Phyllis in 1972 and has a daughter Cheryl, who is currently working as a chartered engineer. Unfortunately, Colin's marriage with Phyllis ended in divorce.

In the year 2000, Colin married Eileen, who he freely admits is his rock and in his own words "does not know what he would do without her".
Colin's Masonic journey started on the 27th November 1968, when he, along with his brother Alan, were initiated into Vale Lodge in the old Masonic Hall at Church Street, Lancaster, after being proposed by their father.  At that juncture, David asked the lodge secretary for an extract of the minutes of that meeting to be read out, at the completion of which David moved on to detail Colin's Masonic career.
Colin became WM in 1980 and has been ADC, almoner and charity steward, spending five years in each role. In Provincial Grand Lodge, Colin has been appointed to the very high rank of Past Provincial Junior Grand Warden. He is also a founder member of Plantagenet Lodge of Installed Masters No 9357 and a member of Heysham Lodge No 4108.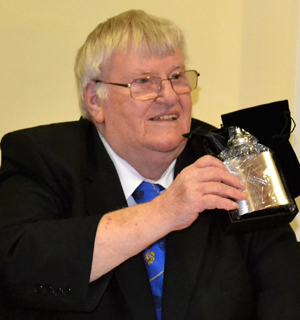 In the Royal Arch, Colin has been the first principal of Lancaster Castle Chapter No 5952 twice, in 1986 and 1987 and is also a member of several other orders, holding high rank in them all. In the Mark degree he is a member of Morecambe Mark Lodge No 716 and holds Grand Rank in that degree. In the Knights Templar, Colin holds the high rang of Past Great Registrar and within the degree of St Thomas of Acon, he holds another high rank, that of Past Grand Doorkeeper.
David completed his address by formally conveying the congratulations of the Provincial Grand Master Tony Harrison before asking Neil to read the commemorative certificate that the PrGM had caused to be issued. It was David's pleasant duty to actually present Colin with his certificate marking his golden jubilee as a Freemason, adding that he hoped Colin would have many more years of pleasure within Freemasonry.
At a well-attended festive board held in the Lancaster Masonic Hall dining room, David once again added his own congratulations and best wished to Colin, whilst also thanking both the group and acting officers for their support. The toast to Colin's heath was proposed in an eloquent manner by his long time friend Geoff Morrow, a member of Vale Lodge even before Colin was initiated.
On completion of the toast to Colin, the WM of Vale Lodge Paul Taylor, rose to present Colin with an engraved 'hip flask' on behalf of the lodge, as well as a Masonic lapel badge from George Fox, a member of the lodge who unfortunately could not be in attendance at his celebration.
In response, Colin thanked not only the members of Vale Lodge for their gift, but also everyone who had attended for their company on what had been a wonderful celebration.
A fitting end to such a wonderful day, was the announcement that the raffles had raised £210.
Article and photographs by Paul Thompson.