The installation meeting of Walton Chapter No 1086 at Woolton Golf Club saw Colin Graham installed as first principal in an excellent and well directed ceremony. The representative of the Grand Superintendent on the evening was Provincial Grand Scribe Nehemiah Tim Burgess.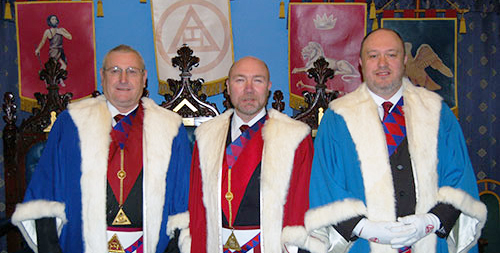 The three principals entered the chapter led by the current and installing first principal George Strickland and opened proceedings in step with normal custom whereon they extended a warm and friendly welcome to the companions and guests. After the administrative business of the chapter had been completed, director of ceremonies for the evening Eric Palfreyman announced the presence of the principal guest Tim Burgess.
Tim duly entered the chapter accompanied by Woolton Group Chairman Andrew Whittle and the three principals arose and extended a very warm welcome to them. The ceremony of installation commenced under the direction of Eric Palfreyman and all in attendance witnessed a sincere ceremony with George Strickland installing Colin Graham into the chair as first principal, this being Colin's first occasion in the chair. Peter Casey was elevated to second principal and Steven Lynch was installed as the third principal; after which Colin invested the officers for the ensuing year.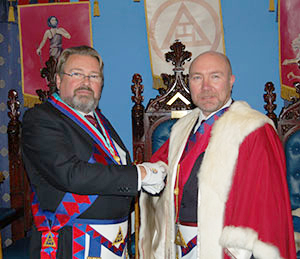 The scripture readings for the third principal were given by Alan Riley; those for the second principal by Mike Cunliffe (group vice chairman), and those for the first principal by Andrew Whittle. The robe addresses were performed to a high standard; that of the scarlet being by George Strickland, that of the purple by Colin Graham and that of the blue by Peter Casey. David Boyes gave a flawless address to the three principals; Paul McLachlan gave the address to the officers and Tim Burgess that to the companions of the chapter.
On the conclusion of the ceremony, Tim expressed the best wishes of the Grand Superintendent Tony Harrison to the three principals and he congratulated all the companions that took part in the installation ceremony. His delight was clearly evident when first principal Colin presented him with a cheque for £150 on behalf of the chapter to the Masonic Charitable Foundation 2021 Festival. As a result of the donation, the chapter achieved the status of a Vice Patron of the Festival.
The business of the chapter completed, the chapter was closed and all retired to the festive board.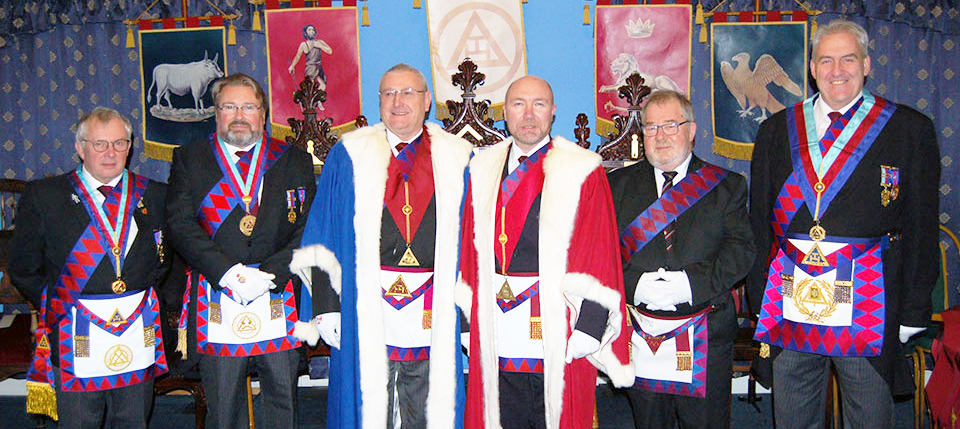 Article and photographs by Doug Lace.