Members and visitors to Foundation Chapter No 5394 were given an excellent rendition of the fundamentals of the Royal Arch by Colin Rowling, Assistant to the Provincial Grand Principles for Eccles and the South Eastern Groups after the November 2022 chapter meeting.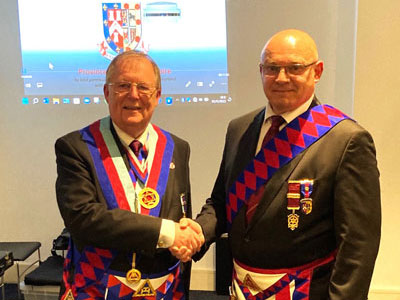 The convocation was quickly opened and closed with the usual business being dispensed with efficiently and at social board a 'White Table' event was then opened to which master Masons from Eccles and South Eastern Groups had been invited, with the aim of giving them a little background information regarding the Royal Arch. To that end special guest Colin had been invited to give a presentation on the subject.
Colin, using a video presentation, started by explaining to the audience the general meaning of the three Craft degrees and how the Royal Arch acted as de-facto fourth degree, rounding off and effectively completing the Masonic 'journey' of self-discovery. He then went on to give a brief history of the Royal Arch, outlining the significance of the first and second temples in Jerusalem as constructed with the help of King Solomon and King Hiram together with chief architect Hiram Abiff.
Colin pointed out that the history dated back over 3000 years, originating when Moses led the Israelites out of oppression in Egypt moving forward to the point in 950 BC when King Solomon began the building of the first temple leading to the death of Hiram Abiff, the loss of the secrets of the master Mason and the completion of the temple by Adoniram, as outlined in the third of the craft degrees.

The first temple stood for approximately 370 years but was then destroyed during a Jewish rebellion with almost 10,000 Jews being sent into exile in Babylon. They spent 70 years in exile until King Cyrus of Persia finally allowed the descendants of the original exiles to return to Jerusalem.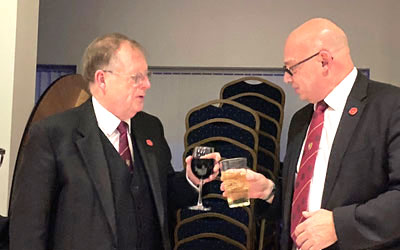 When the first group to return to Jerusalem, they began the building of the second temple. Colin rounded of the presentation saying that this was the starting point for the master Mason in the Royal Arch and the journey of the sojourner or journeyman builder was outlined by Colin.
At the festive board and in response to his toast, Colin hoped the presentation had highlighted the importance of the Royal Arch in the general scheme of Freemasonry and given those master Mason's present a taste of what followed on from the Craft and a desire to explore more fully the natural progression from the third degree. He mentioned that it was good to see the event had interested a number of master Masons and wished them enjoyment in progressing their masonry.
Thus, an excellent convocation and social board were brought to a close with the final toast of the evening coming from the janitor.