The meeting of Clifton Lodge No 703 at Blackpool Masonic Hall was a very special occasion; being the first initiation in the Blackpool Group as a result of the United Grand Lodge of England Digital Marketing Campaign.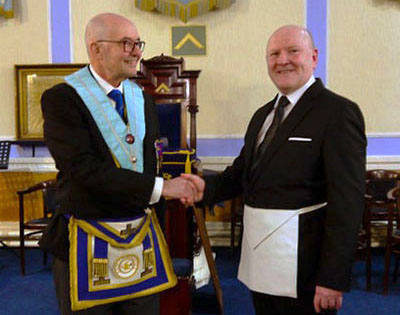 Since 1 September 2021 there have been 356 enquiries in the Province of West Lancashire from men wanting to become Freemasons, 258 of those have been as a direct result of the Digital Marketing Campaign run by United Grand Lodge. Not all however have progressed to becoming Freemasons.
Unsuitable enquires are politely declined before the successful applicants are recommended to the local group membership officers who introduce them to lodges that satisfy the applicant's own personal preferences based on the lodge profiles written by the lodge members themselves.
One such applicant was Steven Wenman who wanted to join a lodge that met on a Thursday and after reading a number of lodge profiles, Steven decided that Clifton Lodge was the lodge for him. Clifton Lodge is Blackpool's oldest Masonic lodge, founded in 1857 with a rich and diverse history and whose members pride themselves on the quality of their ritual and their dedication to the Craft.
Steven was initiated into Clifton Lodge by the WM Dr Graham Hoadley and the officers of the lodge in a fine and dignified ceremony witnessed by the Provincial Membership Officer Neil Ward, first responder to Steven's enquiry Joe Jones, Blackpool Group Chairman David Cook and group vice-chairman Steve Jelly, along with the proud members of Clifton Lodge and various visitors.
Story and photographs by Gordon Ivett.