After several years of being unable to host, what had become a regular feature of the lodge, City Lodge No 2514 hosted a Sunday luncheon at Woolton Golf Cub.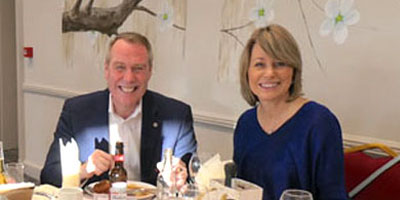 Over 40 brethren and their guests attended the lunch in lieu of holding a Ladies Evening for WM Phillip Summers and his wife Maria. The lodge director of ceremonies asked attendees to take their seats and then called upon lodge chaplain Tom Arnold to say grace.
Starting with a plate of melon, the diners were then ushered into the small dining room where the chef and staff served a carvery of three meats and several trays of vegetables. Everyone enjoyed the carvery and after the plates were cleared the staff took orders from the choice of desserts on offer, including cheese and biscuits.
Tom returned thanks and the event continues with Stephen James Riley proposing the toast to the ladies and then his father, Stephen Joseph Riley, singing the ladies' song which was well received by all.
Maria was keen to respond and thanked everyone for supporting the event and said that she had learned a great deal about the charitable work that Freemasons do since Phillip had been in the chair for four years and she deemed it an honour that Phillip had been asked to stay in the chair for such a long time.

Maria and Phillip provided each lady present with a gift consisting of a bottle of Prosecco, a candle and chocolate.
After Maria had given her response to the toast, which received rapturous applause, the lodge's senior member Geoffrey Johnston presented a bouquet of flowers on behalf of the lodge.
Geoff informed everyone that charitable giving was at the heart of the membership and in the last two years over £2,000 had been donated to various charities including Marie Curie, the Ukrainian appeal and others.
During the afternoon a raffle was held which raised £215 for charity. Everyone enjoyed the event and it is hoped there may be more to follow.