The members of Euxton Lodge No 7192 usually celebrate Christmas in fine style along with families and friends. In 2020, the celebrations were somewhat curtailed due to the restrictions in place, and the reader may recall our story telling of their determination not to let the festive season pass without some kind of meeting. Hence the arrangement of what became the norm for gatherings, in the form of the now ubiquitous Zoom meeting.

This year, with restrictions relaxed, the lodge were keen to make up for last year's somewhat muted celebration as they returned to their traditional format of a Christmas meal with family and friends. Lodge secretary Norman Cox takes up the story of a great night out as well as a truly magnificent fund raiser.
'We wish you a happy Christmas'…and what a difference a year makes!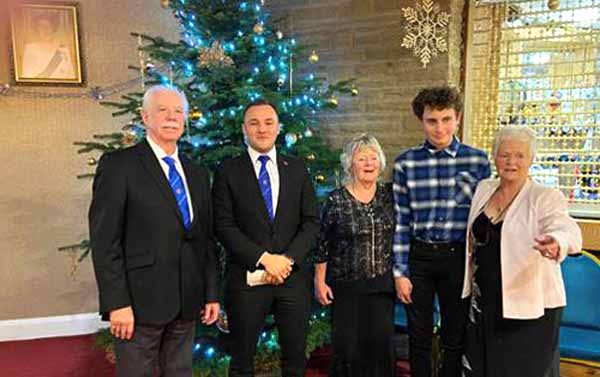 This time last year the best efforts were made to celebrate Christmas by transforming the weekly Zoom meeting into a lodge virtual party, the best that could be done under lock-down rules.
But lodge members were all delighted this year to be able to celebrate with a full and traditional Christmas festive board as normally done.
The WM welcomed friends and family of all ages to a happy Christmas atmosphere enjoying a really superb dinner produced by the splendid Chorley Masonic Hall caterers. Also, to enhance the jollity, the Lostock Hall Brass band provided festive background music for the diners. Afterwards an energetically entertaining raffle raised £500 for the lodge widows' Christmas boxes.
Then, to crown off a most enjoyable evening, the WM gave a cheque for just over £3,000 to guest Adam Dennett of Carnarvon Lodge No 2376, towards the purchase of a Blood Bike in the memory of Terry Derbyshire who was instrumental in the raising of funds to purchase a Blood Bike earlier this year. Sadly Terry lost his life in a motor cycle accident shortly after the presentation of the bike to North West Blood Bikes.
The fantastic donation had been raised at several lodge functions, including socials and on-line zoom raffles, but the lion's share, a whopping £2,300, was raised by the family of our immediate past master, Harry Noblet. His intrepid wife, Mary, sister-in-law Shirley and grandson, Harry, had endured ferocious winds and weather to undertake a sponsored zip wire challenge.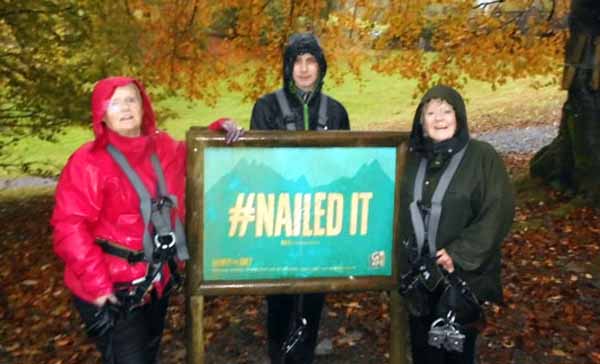 Harry's family all took on the 'Treetop' Challenge at Grizedale Go Ape, which they organised at their own expense. Probably very wisely, this did not include grandad Harry who was more cautious, (or in his own words too chicken), to do it.
After an exhausting mountain climb to the first zip wire in the most appalling weather conditions they found they had signed up for not one, but actually eight seriously high zip wires covering a 3km run over the forest. All this on the wettest day of 2021 with very high winds. Indeed, at one stage 'little' Harry was left stranded on the wire as strong winds stopped operations and he had to be rescued by an instructor.
The Treetop Challenge fund raising campaign was a roaring success, with family friends and fellow Masons contributing the magnificent sum of £2,300 and culminating in the presentation to Adam at the Christmas dinner.
We are sure all will agree that this is a truly heart-warming and inspiring story of how the members and families of our fraternity will overcome not only inconvenience but adversity to continue their efforts to enrich the lives of others whilst still managing to have a great time.