Following on from the summer 'Meals on Wheels' initiative, Garston Masonic Hall Chairman Mal Yates, together with other directors, once again decided to work with local councillors and help to fund a Christmas Hamper Appeal.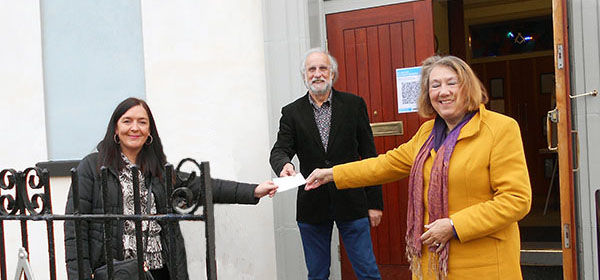 In association with Deputy Mayor Councillor Lynnie Hinnigan and Garston Adventure Playground, the hall will be producing over 60 Xmas Hampers for the elderly and vulnerable people in the community. The hampers will be filled and delivered on 11 and 12 December.
Mal Yates was pleased to present a cheque for £2,000 to Councillors Hinnigan and O'Brien which has been funded by the hall finances and donations from lodges, chapters and members. The cheque will be given to Garston Adventure Playground (GAP) who will be involved in making and decorating the Xmas Boxes.
GAP started approximately 40 years ago as a summer play scheme in Garston Park which was run by volunteers and local residents. It needed a permanent place to play that would be open all year round and found an ideal place in an old disused quarry which sat beside an old railway line. British Rail was contacted and a lease drawn up for the site and with the help of funding from Central Government and a lot of hard work it was opened in 1980 by HRH The Duke of Edinburgh.
This again is an example of Garston Masonic Hall members working with councillors, GAP and local residents to support the local community who require urgent support, especially during the festive period.