Every year in the past, the December festive meal at Euxton Lodge No 7192 has provided companionship and entertainment for over 100 members and guests, including children and grandchildren with Christmas dinner, music and entertainment.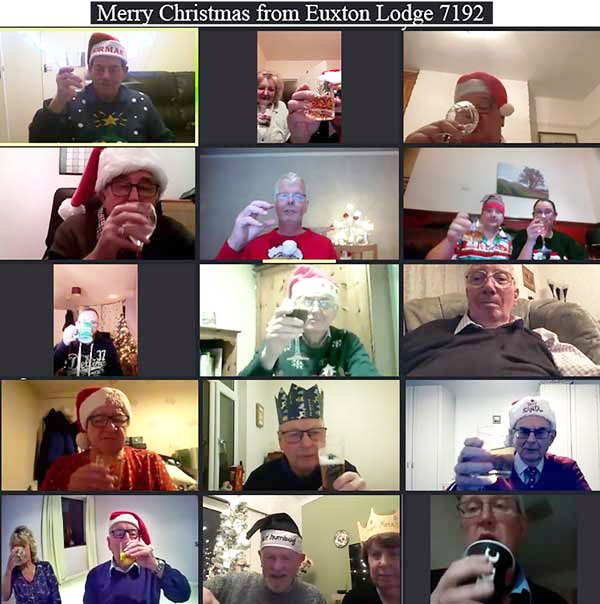 Lodge secretary Norman Cox told us how this year, they were not to be deterred from a festive gathering which always includes important charitable fundraising.
Norman said: "Just as with everyone else and almost every other aspect of our working, leisure and social lives, COVID-19 has had a devastating effect. We have not been able to meet together since the start of this pandemic. It has been difficult but we have tried to hold onto some of the best of our traditions and values."
"This year we were not going to let COVID-19 completely destroy that!  At one of our regular weekly Zoom meetings, we managed to recreate some of our festive cheer, raised a glass and a mince pie, looked a bit silly, and ran an on-line raffle which actually raised even more than ever for charities. Surprisingly, it even raised some smiles!"
Charity steward Arthur Walmsley told us how well the fund-raising efforts had gone in such a challenging year. "The lodge, not having met since March, our members agreed to do some catching up on lost time. Through November and December we have been running a raffle which we traditionally hold at our December meeting in order to raise money for a gift to our lodge widows.
In addition to this our members have made contributions which have enabled us to make the following charity donations: Myeloma UK £250.00, Chorley and Leyland Food Bank Appeal £300.00, Bay6 Leyland Project, Barnardo's £400,00."
WM of the lodge, Harry Noblett, has been understandably delighted with the efforts of all the members, he commented: "As always Euxton Lodge looked forward and tried to keep up old traditions but with a 21st century approach.  Some of the brethren may not be teenagers, but what we lack in youth we make up for in energy and enthusiasm for the lodge and Freemasonry in general. Hence, we held our regular weekly Zoom meetings and these have always been well attended.
On this occasion we continued our normal December meeting theme of a raffle for our widows, as well helping our chosen charities. On behalf of all the brethren in Euxton Lodge, I hope you have a happy Christmas and let's look forward to a better 2021!"