What could be better than combining something you really take great pleasure in whilst raising money for good causes?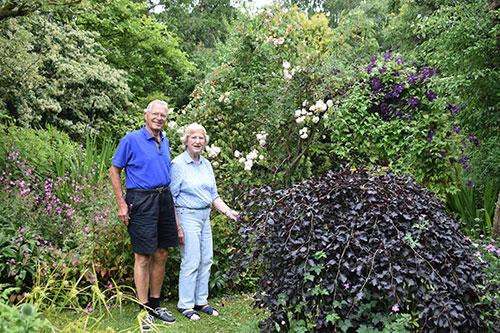 Chris Band, a member of Arthur John Brogden Lodge No 1715 which meets at Grange-over-Sands, has managed to do just that by opening his extensive garden to visitors for a contribution to charity. The latest beneficiary from this is the Masonic Charitable Foundation 2021 Festival following a recent open day.
In 1997 Chris and his wife Shirley moved full time into Orchard Cottage, which had until then been their holiday home, in the village of Levens. They have since transformed a heavily overgrown orchard and garden into something which is a joy to behold. The acquisition of adjacent land has enabled them to increase the size of the garden. The careful selection of trees, shrubs and plants suitable for growing in the none too rich soil has enabled the green-fingered duo to create a little bit of paradise in what is already a beautiful part of the country. They have amassed a notable collection of over 100 varieties of fern.
It is not just the flora which benefits from their care as the provision of suitable environments for creepy crawlies, known as bug hotels, encourages the presence of many species of bird in this tranquil setting.
Originally, they opened up the garden to raise funds for Cancer Care and raised £2,000 for that worthy cause. However, for the last five years they have been part of the National Garden Scheme. This is a society formed in 1927 with the aim of 'opening gardens of quality, character and interest to the public for charity'. The scheme supports such worthy causes as The Queen's Nursing Institute and Macmillan Cancer Support.
During those five years Chris and Shirley have raised £6,000 for the National Garden Scheme. Recently this amount was added to when a coachload of 45 visitors from the Midlands popped in for a viewing.
In addition, they open up each year for the Levens village open gardens fund raising event and the occasional additional day for good causes such as the MCF.
Details of Orchard Cottage and all the other participating gardens can be found on the NGS website.