Chris Larder was installed as WM of Runic Lodge No 6019 for the second time in the presence of Neil McGill Past Assistant Grand Director of Ceremonies, Chairman of the Lancaster Group who was the representative of Deputy Provincial Grand Master in Charge Philip Gunning.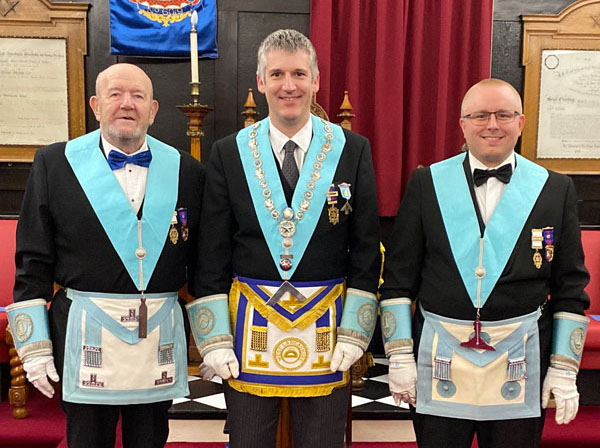 Neil was accompanied by Past Assistant Provincial Grand Master Philip Gardner, acting Provincial grand officer Dave Shaw Provincial Junior Grand Deacon and Lancaster Group Vice Chairman Scott Devine.
At his installation ceremony, Chris was presented by the director of ceremonies David Tattersall. The installing master was Peter Tooze-Froggatt who has held the post since 2020 because of the COVID-19 pandemic. Installing officers were; senior warden Alan Herron, junior warden Ken Needham and inner guard Malcolm Hayward.
The master's working tools were presented by Ken Needham. The working tools in the third, second and first degrees were presented by Sam Hodgson, Stewart Aimson from Vale Lodge No 5256 and Peter Tooze-Froggatt respectively.
After being installed, Chris appointed Sam Hodgson as senior warden and Terry Nealons as junior warden. On completion of the installation ceremony, installing master Peter Tooze-Froggatt presented Neil McGill with cheques to the value of £1,100 for Masonic and non-Masonic charities.
Giving the address to the master was George Fox from Vale Lodge, the address to the wardens by John Heaton and the address to the brethren of Runic Lodge by Neil McGill. John Heaton presented the immediate past master Peter with one of the original founder's jewels to be retained for the ensuing year.
The organist was John Cherry and the master's song was performed by George Fox. A total of 47 brethren attended the festive board and the raffle raised £345, plus £35 from the master's swindle and a further £85 donated by nine of the past masters from the following lodges: Duke of Lancaster Lodge No 1353, Great Eccleston Lodge No 8895, Longridge Lodge No 8077, Lune Lodge No 4724, Plantagenet Lodge of Installed Masters No 9357, Poulton le Sands Lodge No 1051, Pilling Lodge No 7879, Scorton Lodge No 5791 and St Michaels on Wyre Lodge No 8348. All of whom were in office when Chris was installed as WM for the first time. The toast to the WM was given by David Tattersall.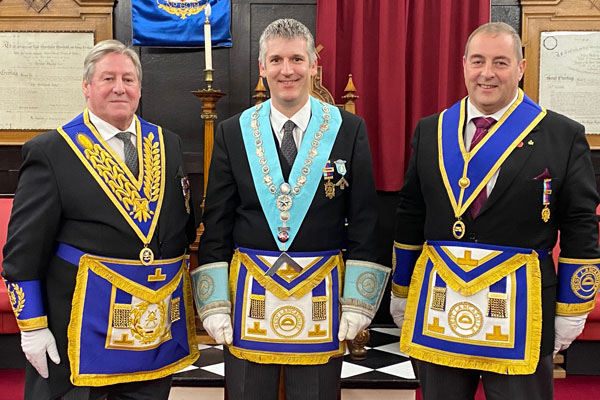 WM Chris Larder is originally from Wakefield, West Yorkshire. He studied music at the University of Leeds, gaining a BA (Hons) degree in music. After receiving his Post Graduate Certificate of Education, he became a music teacher.
Chris moved to Morecambe in September 2003 to take up his first job as a secondary school music teacher at Morecambe High School. After three years, he moved to Heysham High School, now known as Bay Leadership Academy, as Head of Music. He currently teaches music and history to pupils aged 11 to 18 year olds.
He is a former euphonium player and brass band conductor who played in some of the top brass bands in the North. He has since retired from brass banding to focus on Freemasonry. Chris enjoys listening to all kinds of music. He is also a keen gardener who enjoys cooking, reading military history books and (much to the annoyance of his wife) watching historical documentaries.
His proudest achievement is his family, comprising of his wife Clare who he married in February 2014 and daughters Emma aged 7 and Bethany who is nine months old.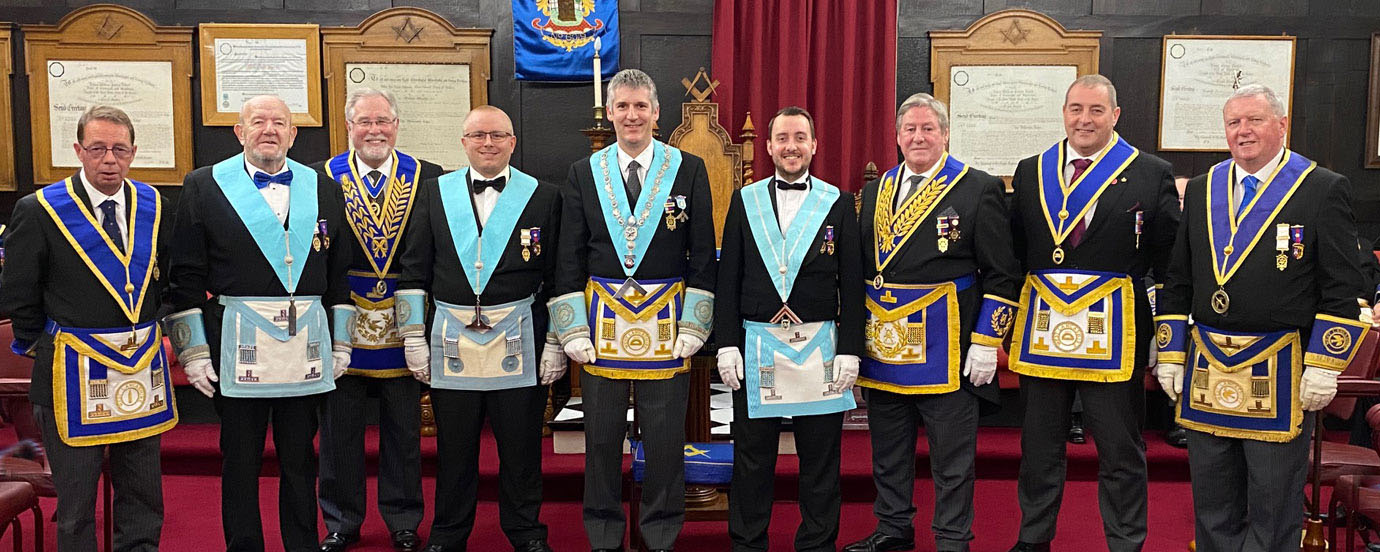 Chris' Masonic journey began on 14 January 2005 when he was initiated into Runic Lodge, he was raised on 13 May 2006 culminating with his installation into the chair of King Solomon in 2012. Chris has served as lodge secretary for five years and group secretary for the past 4 years. He received his first appointment as Acting Provincial Grand Steward in 2016 and his first promotion to Past Provincial Deputy Grand Superintendent of Works in 2020. Chris is a member of Plantagenet Lodge of Installed Masters.
In royal Arch, Chris was exalted into Heysham Chapter No 4106 on 13 September 2007 and served as first principal in 2015. He is a member and a past second principal of Vale Chapter of Installed Principals No 5256. He was appointed Acting Provincial Grand Steward in 2018 and is a member of the Provincial Grand Stewards' Chapter of West Lancashire No. 8516. Chris was promoted: to Past Provincial Grand Sojourner: in 2022. Chris is also a member of other Masonic Orders.