Perfect Points – The Group Masonic Research Society
The Chorley and Leyland Group have their  very own Masonic research society! ….. Perfect Points – The Chorley and Leyland Masonic Advancement Group.
Make your daily advancement by visiting Perfect Points at one of the meetings held  across the venues in our group.
Look  on the announcements section of the website home page  to find out what's in store, or perhaps you have an interesting paper to present?
Please come along and visit, all  Masons can attend unless the content of the talk is not suitable for ranks below a master Mason. That information will appear on any advertising referring to the meeting in question.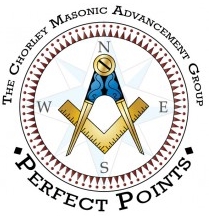 Demonstration teams and guest speakers are booked for your entertainment and a light supper follows.
For information or should you wish to join Perfect Points please email the secretary.
Wear your
Stewards
Jewel
with Pride