The members and guests of Chorley Lodge No 6287 met for a final time at Chorley Masonic Hall. It is always a sad occasion when a lodge finds itself in the position where its members feels it has no option but to close their lodge. Chorley Lodge found that declining numbers left them with no option but to hand in their warrant.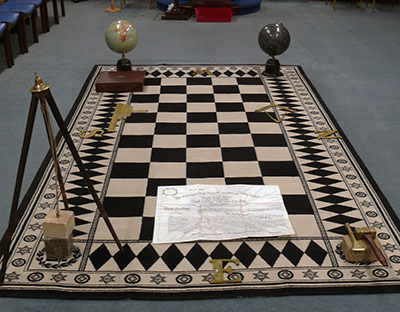 Chorley Lodge, the daughter lodge of Ellesmere Lodge No 730, had its warrant issued on the 1 May 1946 and subsequently consecrated on 24 April 1947. They first met at the Masonic Rooms in Fellery Street in Chorley and moved to their current home in Chorley Masonic Hall in 1972.
Don Hesketh, the longest standing member, stood in as the master as Iain Simpson, their reigning master had unfortunately contracted COVID and was unable to attend.Over 25 members and guests came together to witness the lodge handing its warrant back to Assistant Provincial Grand Master Peter Lockett, who was accompanied by Chorley and Leyland Group Chairman Peter Allen, in a very emotional and poignant evening.
Peter Lockett said that whilst it was a sad occasion, the evening was also a celebration of the founders and all the members that have followed them. He added that they should be proud of Chorley Lodge's history that they had all been part of. He asked them to remember everything that was good in Chorley Lodge and he hoped they would all find enjoyment in their new lodges.

The evening proved to be bitter sweet as Chorley Lodge was consigned to the history books, gone but not forgotten. Chorley Lodge has always been known for its very high standard of ritual and for being a happy lodge that always enjoyed its social boards and, as Tom Jackson commented: "It is hoped that all the members continue to communicate light wherever their Masonic journey takes them."
At the social board stories were swapped and memories shared as everyone enjoyed each other's company for the last time as Chorley Lodge, but hopefully they will come together in the future as they join other lodges
They left Chorley Masonic Hall with Don Hesketh's last words from the master's chair as he said: "I rise for the last time."