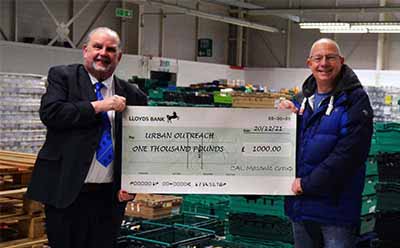 A huge thank you has gone out to all the individuals and lodges within the Chorley and Leyland Group who gave kindly and generously donated to the 2021 food bank appeal. A magnificent total of £4,650 has been raised.
These donations have been distributed to six charitable organisations: Urban Outreach, Senior Solutions, Leyland Foodbank, Chorley Help the Homeless, Chorley Women's Centre, and Watch Us Grow. These well-deserving organisations were selected because they serve their local communities by providing food and essential supplies to individuals and families who need help and support in these very difficult times. These charities also provide vital support in many other ways as the following describes.
Urban Outreach Is a long-established 'storehouse' food bank located in the centre of Bolton which provides weekly food parcels all year round to those in need across the borough, including Horwich and Westhoughton. Primarily the project supports families and single people in distress as a result of redundancy, illness, debt, adverse changes or a delay in benefits, including those who have been sanctioned. Other reasons for people needing to make use of the food bank are homelessness and family breakdown. Dave Bagley, one of the founders of Urban Outreach thanked the group for the generous donation, saying that much of the fresh and perishable produce and provisions which make up the food parcels have to be purchased and its kind and generous donations like this that enable them to do just that.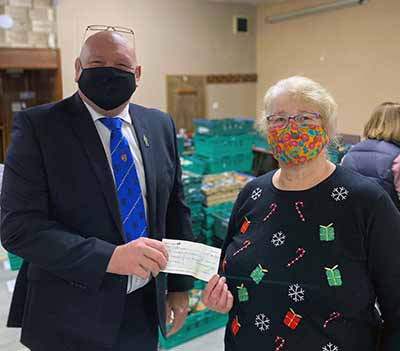 Senior Solutions (formerly Westhoughton Visiting Service) has been helping older people in Westhoughton and the surrounding districts since 1997. Through their dedicated team of volunteers and staff they work to prevent the damaging effects of loneliness and social isolation, offering a befriending service either in person or on the phone, as well as running luncheon clubs and social groups which bring people together. On receiving the donation, the scheme manager Michelle Todd said that the continued existence of Senior Solutions depends upon the support of their funding bodies, Bolton Council and The National Lottery, but also on the generosity of so many of their friends and supporters and that this donation enabled them to continue the work that they do.
The Leyland Food Bank operates out of St Mary's Church in Leyland and provides both temporary and ongoing relief to those in need from in and around the Leyland area. The Chorley and Leyland Group Vice Chairman Dave Bishop presented a donation to Celia Neill their co-ordinator. Celia thanked the members of the group for their ongoing support and added that the money would enable them to assist many families in need, not only over the Christmas period but well into the New Year.
Chorley Help The Homeless is a charity which operates out of the centre of Chorley and provides food parcels for families and individuals who are in need, essential household items and from their premises as a social space for people to go to for a hot drink and a chat, as well as events which promote personal development and assistance in getting their lives back on track. The charity has also introduced the 'Chorley Market Food Voucher' scheme as part of its food bank where those in need are given vouchers to purchase essential food provisions off the participating food stalls on Chorley Market. Ken Phillips, a trustee of the charity, thanked the group for the donation and explained how it will help, particularly with the food voucher scheme, describing it as a "Win – Win -Win", first by allowing the individual to buy food for themselves, which secondly provides a boost in their confidence and dignity, and last but not least it also provides a boost to the local economy, particularly the participating stalls on Chorley Market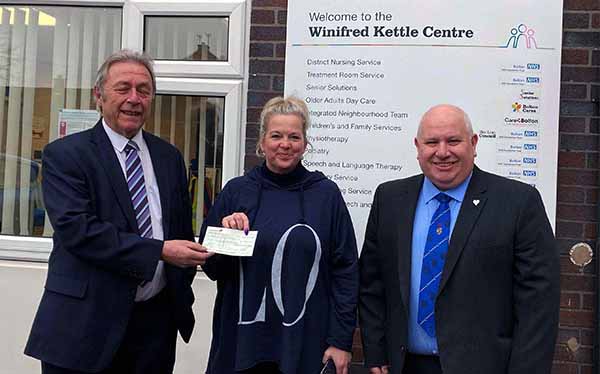 Chorley Women's Centre is an independent organisation run by volunteers who for over 30 years have been dedicated to supporting women of all ages and regardless of circumstances. The volunteers are warm, friendly, approachable, and fully trained in supportive listening and can provide information on many topics. They provide a listening ear either on a one-to-one for more personal issues or there is a communal area where ladies can chat amongst themselves and discuss many topics from childcare to different coping skills, share ideas, engage in the centre activities or just to seek help or advise others on many issues, or just sit and have a coffee or tea and a natter. Jackie Moss, the centre manager, thanked the group for the generous donation saying that it will help in providing the help and support they offer to all who come through their doors and went on to say that working closely with other charities in Chorley they can also provide essential links to other services such as food banks, food vouchers and have the mission; "If we can't help, we will always find someone who can."
Watch us Grow is an association established in Chorley and Leyland to meet the needs of those in the local community who are experiencing issues with substance misuse, mental health, depravation, isolation, or social marginalisation. They are a grass roots, 'peer led' and mutually supporting organisation with a success rate in helping their members overcome the many diverse issues they face. Naomi Haworth thanked the group for the donation and said that Watch Us Grow relies on donations to enable them to carry on the work they do to help and support the people who come to them for help and support.