During COVID-19 the 'Travelling Gavel' rested with Lodge of Harmony No 580 for nearly three years. On hearing this Martin Stewart, the WM of Lodge of Chivalry No 3974, formed a raiding party to claim it for 'Chivalry'.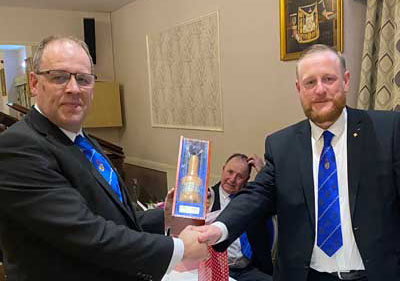 Sadly 'Chivalry' only had the 'Gavel' for four weeks when it was claimed by Eric Moran, the WM of Crosby Lodge No 3714, who took it home to Litherland.
Martin was delighted that two WMs had attempted to claim the 'Travelling Gavel' as they had bought along a number of their brethren who swelled the number of visitors to see him raise his son Zac to the sublime degree of a Master Mason.
Martin decided to make an attempt to reclaim the gavel at Crosby Lodge's installation meeting and was very pleased when his officers decided to join the raiding party.
The raiding party of eight members saw Ron Elliot installed into the chair of King Solomon for the first time in fine style by Eric Moran. They enjoyed a wonderful four course meal and Martin travelled to his home in Stoke-on-Trent with a real 'Travelling Gavel'.
The next meeting of 'Chivalry' is a third degree and Martin welcomes all WMs in Ormskirk and Litherland to visit Lodge of Chivalry to claim the 'Travelling Gavel', the rules are the WM with at least two members of his lodge are required to claim it. If two or more WM's are present, the one with more members win the 'Travelling Gavel'.