Three members of Lodge of Chivalry No 3974 received honours at the 2022 Provincial Grand Lodge held in the Winter Gardens in Blackpool.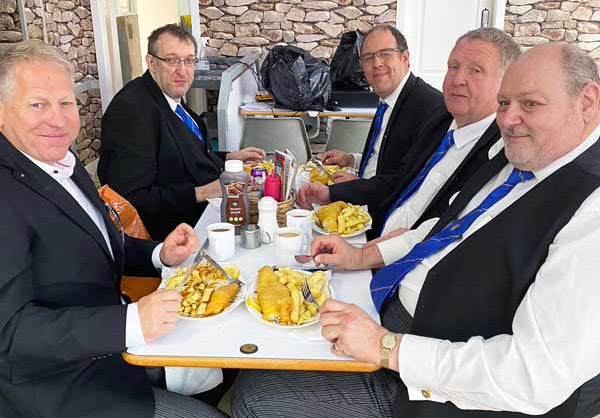 Sadly Bill Harrison who received an acting rank was not able to attend as he is suffering from spinal injury and he also the carer for his sister.
Michael Atherton travelled to Blackpool with Paul Kay and Bill Knibb to receive his first appointment. Michael and Paul joined Chivalry in February following the closure of their Mersey Lodge No 5199.
David Dugdale received a promotion and travelled to Blackpool with the WM of Chivalry, the lodge secretary, Mark Holloway and Stuart Flynn the senior warden. They joined up with Ian Pye who joined Chivalry in January along with his brother Nigel, to enjoy an early lunch of fish and chips, before registering in the new conference area in the Winter Gardens.
After registering they went to a local hostelry for a refreshing pint or two, they met Michael, Paul and Bill who were going to register for the meeting. Sadly, although they arranged to meet up, time and circumstance prevented it.
Arriving back at the Winter Gardens they made their separate ways as the celebrants took their allocated seats and the others took their seats to clap and cheer them as they received their awards.
After the meeting David, Martin, Mark and Stuart, along with many other members of lodges that meet in Ormskirk, made their way to Ormskirk where they attended a meeting of Rufford Lodge No 7217 who passed John Beech to the degree of fellow craft.
The meeting of Rufford was completed with a very happy event, John Ross was presented with a certificate to mark his 60 years in Freemasonry.
At the festive board everyone enjoyed a wonderful meal which ended a very enjoyable day of Freemasonry.