Charles Richard Matthews celebrated 60 years in Freemasonry, he was an honorary member of Park Hall Lodge No 8375 and was visited at his home by Frank Umbers Assistant Provincial Grand Master, Graham Chambers Ormskirk and Bootle Group Chairman, Alistair Frew WM of Park Hall Lodge and fellow lodge members Harry Thacker and Martin Howell to celebrate his diamond anniversary. Frank presented Charles with a certificate denoting his 60 years in Freemasonry. Charles was in good spirits as he has been in poor health for some time.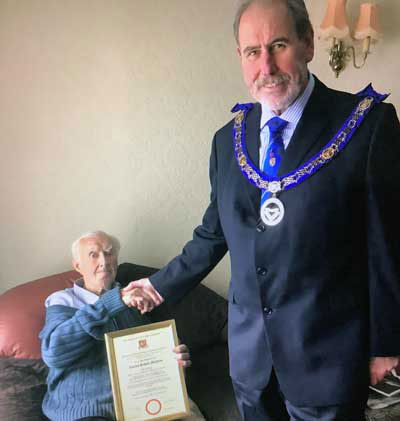 During the visit he received a telephone call from the Provincial Grand Master Tony Harrison, who congratulated him on his wonderful achievement. Charles enjoyed talking to Tony and also enjoyed the visit by Frank and the brethren who enjoyed talking about some of the highlights of his 60 years in Freemasonry.
Charles joined the Home Guard and was in the RAF where he trained as a pilot. He was posted to Canada where he did most of his training. On his return to England, Charles joined 460 Squadron, flying Lancaster bombers. However, he did not take part in any operational flying as the war was beginning to turn, so his skills were no longer required.
Charles was demobbed in 1946 and returned to his old job in Bootle with the Corporation and even tried his hand working for Wakefield Corporation. This still didn't satisfy him so he applied to be trained as a teacher under the 'Emergency Teachers Training Scheme'. He was offered a place on a teacher training course at Freckleton College in 1948.
He started teaching in Bootle at Christ Church Primary School. He gained his first promotion to a teaching post at St Oswald's Primary School. This led to the appointment to the Headship of Up-Holland Moor Church of England School. Charles was finally appointed as Headmaster of Little Digmoor County Primary School in Skelmersdale where he remained until he retired in 1986.
Sadly, just four days after the visit, Charles passed to the Grand Lodge above. He was 98 years old and will be greatly missed.