The Lancaster and District Group were honoured to host a visit by Deputy Provincial Grand Master Philip Harry Gunning to their group dinner held at Wyrebank, Garstang. Group chairman Neil McGill, vice chairman Scott Devine and group secretary Chris Larder, together with Assistant to the Provincial Grand Principals Chris Butterfield were delighted to welcome Philip, who was accompanied by the Provincial Senior and Junior Grand Wardens David Edwards and Paul Storrar respectively, grand officers Jim Wilson, Peter Schofield and Raymond Firth, Provincial Deputy Grand Director of Ceremonies Barry Fitzgerald and Assistant to the Provincial Grand Director of Ceremonies Ryan Modlin..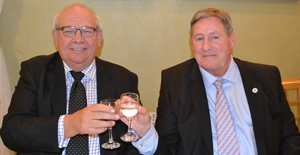 The evening commenced with a reception for the 91 brethren in attendance, including masters in office, immediate past masters, Royal Arch Chapter first principals and immediate past first principals. The reception provided the opportunity for everyone to mix, have a good chat and meet Philip and the group officers, before moving into the banqueting suite for a superb three course meal.
Following the meal, it was Scott's honour to propose a toast to the health of the DPrGM and in response Phil first thanked all present for their support, before moving on to pay tribute to Assistant Provincial Grand Master David John Walmsley, who had just recently lost his battle with cancer and who will be sorely missed. Philip also offered his congratulations to Chris Butterfield, who will be promoted to Second Provincial Grand Principal at Vale Chapter No 5256 installation convocation meeting in August 2019.
Philip moved on to praise the efforts of the Provincial Grand Master Tony Harrison to promote the Province of West Lancashire, all of which he assured the brethren, is very much appreciated at United Grand Lodge in London.
Philip also discussed Prostate Cancer, a topic close to his heart and in the process promoted the PSA test, which will be available for all attendees at the Provincial Grand Chapter meeting in Southport later in the year. Philip stressed it was of the upmost importance to take advantage of this test, for if this cancer is found early enough it improves your chances of recovery immensely. Freemasonry has poured huge amounts into Prostate Cancer research, so Philip implored anyone who has not been tested to take advantage of this free test.

The toast to the Lancaster and District Group was in the capable hands of PrJGW Paul Storrar, who first wished the group chairman Neil McGill a speedy recovery from his recent accident and was very pleased to see him in attendance, given the extent of his injuries. Paul had obviously done his homework and was able to express his admiration for recently retired group chairman Jim Wilson, who had served the group with distinction and also to Peter Pemberton, who was stepping down from editing the Group Gazette after many years of loyal service.  He moved on to thank Paul Thompson for his work as the group publicity officer and congratulated Doug Willoughby on his forthcoming celebration of achieving 50 years in Freemasonry.
In his response, group chairman Neil thanked Paul Storrar for his toast to the group, before making particular mention of the group's close friends from the Furness and South Lakeland Group who were in attendance. Neil also expressed his gratitude to the group officers for all their work in making the group such a success. Congratulations were also proffered to the 'Lancastrian Club' and its very successful re-launch, with over a third of its 'light blue' members attending the group dinner.
On conclusion of his speech, Neil McGill presented Philip, on behalf of the group, with a cheque for £4,000 made payable to the MCF 2021 Festival. Further donations from the group to the Festival included £1,300, presented by Scott from the money raised through the 'Teddy Bear' raffle and £250 from the 'Lancastrian Club'.
All agreed that the event had been a huge success, with many memorable highlights setting the standard for such future gatherings.

Article and photographs by Paul Thompson.