The Leigh Group extended a warm welcome to Paul Crook, the latest companion from Leigh to join this supreme degree, a local businessman who is the proprietor of Powerbeck Gymnasiums and Fitness Centres in the locality. His admission into Royal Arch Masonry will be a benefit to the Chapter of Truth No 6235 in particular and Royal Arch Masonry in the Leigh Group in general.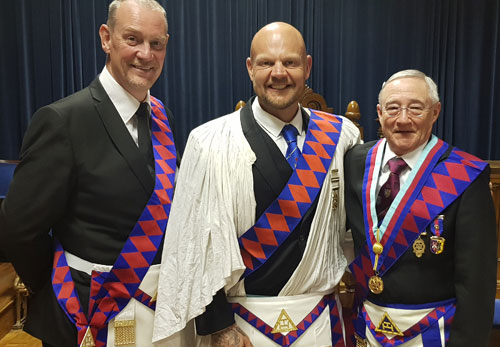 Paul is an active member of the Leigh Group, currently vice chairman of the rejuvenated Light Blues section and Paul's enthusiasm for all things Masonic shines through. Presently the senior warden in his Craft lodge, he had been thinking about joining Royal Arch for some time and felt that 'now the time was right', Aiden Murphy was only too pleased to propose him.
The members of Chapter of Truth planned to make this a special exaltation ceremony, for the first-time adopting portions of the West Lancashire initiative, the enhanced ceremony: a process where at various points throughout the ceremony an orator would 'set the scene' for the next part of the ceremony. The chapter selected Chris Givvons for the role of orator, who superbly maintained the attention of the candidate and companions alike as he interjected at relevant points throughout the evening providing insight and a far clearer understanding of the exaltation ceremony as whole.
A further benefit of the enhanced version of the exaltation ceremony is that companions are encouraged to get more involved with the ritual. Coordinated by director of ceremonies Geoff Bent, the work of the three principles was divided seamlessly between first principle Steve Ralph, second principle Mick O'Brien and third principle Steve Gerrard. The work of the three sojourners was expertly led by David Case and the signs of the degree demonstrated in a precise and fantastically athletic style by scribe Ezra Stephen Holcroft.
Replying on behalf of the grand officers, Malcolm Taylor PGStdB and a past Wigan Group Chairman commented that he was delighted to see so many of the companions involved in a well-practiced and thoroughly enjoyable exaltation ceremony.
Retiring to the festive board, the toast to the health of the newly exalted companion Paul was made by his proposer Aiden Murphy. Paul responded by saying that he was keen to research the allegory and symbolism contained within Royal Arch Masonry. Responding on behalf of the visitors, Wayne Barnes encouraged Paul's natural inquisitiveness with comment's regarding the five platonic bodies and how evidence of their existence, long before Plato's paper in 380 BC has been un-earthed from pre-historic Scotland in a 4,000-year-old Neolithic site, some 1,500 years before Plato's discoveries. The platonic bodies are available for viewing in the Ashmolean Museum at Oxford University.
Chris Givvons, concluded the festivities by toasting the health of absent companions. A well worked exaltation evening, thoroughly enjoyed by all.
Article and photographs by Wayne Barnes.