Chapter of Harmony No 178 have been operating since 1826 and there have been a lot of installations, they have seldom been carried out as well as they were performed in the evening of March 2022.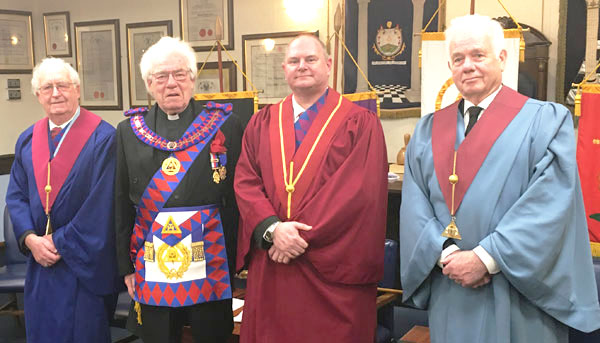 What a pleasure it was, after such a long break to see all installing principals carrying out such an impeccable ceremony, supported by such a well-practiced team. Paul Hesketh, who does have a history of excellent ritual was unable to attend and so it was left to chapter DC Martin Stokes to lead the team through all phases of the ceremony.
With attending officer Rev Godfrey Hirst in place, accompanied by Stanley Oldfield, Michael Threlfall. Raymond Martland and acting Provincial grand officers Victor Charlesworth, Colin Preston. Eddie Atherton, the installation began with the installing principals Gordon Turner, Derek Ishmael and Michael Purcell taking their places, the convocation relaxed in preparation for the installation of the three new principals.
Gordon left his seat as second principal to assume the role of immediate past first principal and Michael Purcell took on the red robe before welcoming Derek Ishmael and Jim Wheeldon into their respective seats of second and third principal. All three robe addresses, readings and prayers were completed fluently within the ceremony and the convocation relaxed before proceeding to the investing of the chapter officers for the ensuing year. John Ishmael gave the address to the sojourners and with the warrant of the chapter safely passed to the first principal, the newly installed first principal presented immediate past first principal Gordon with the jewel of his office, thanking him sincerely for his work during the preceding year.

Godfrey Hirst rose to congratulate the first principal and the rest of the chapter for an excellent ritual which had obviously been well prepared and rehearsed and he congratulated the members for the cheques presented to him on behalf of West Lancashire Charitable Foundation and Pemberton Masonic Hall for over £250.
At the risings, grand officers, Provincial grand officers and guests were heartily invited to join the principals, officers and companions of Chapter of Harmony at the festive board.
With the closing words of the principal sojourner and the immediate past first principal, the convocation closed and all present retired to the festive board.
By Ian K Dawson, Wigan Group Publicity Officer.