Owing to the fact that Michael Purcell, first principal of Chapter of Harmony No 178, was called away on business and unable to rearrange, Gordon Turner took over the reins at short notice and delivered an excellent installation ceremony in perfect harmony at Pemberton Masonic Hall.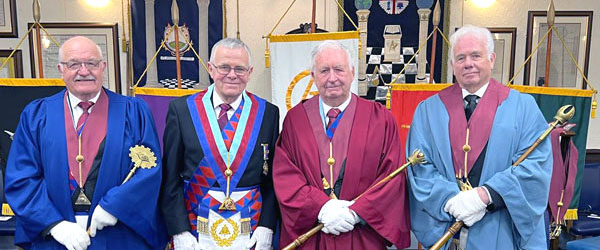 Gordon was ably supported by the chapter director of ceremonies Martin Stokes. The principal guest for the installation ceremony was Colin Jenkins, who was the representative of the Grand Superintendent Mark Matthews.
Colin was supported by the Wigan Group Chairman John Selley, grand officers Stanley Oldfield, Geoffrey Porter, David Harrison and Paul Hesketh, with Provincial Grand Standard Bearer Steve Dutson.
The conclave was opened in due form at 6pm with the following companions being obligated excellently as follows; James Wheeldon remained in the chair as third principal with the reading presented by Paul Ledson, Colin Sharples was obligated as second principal by Geoff Hardman and the reading delivered by Norman Meadows and Derek Ishmael was obligated as first principal by Derek Todd, reading performed by George Fletcher.

A duly constituted conclave of installed first principals was declared and Derek Ishmael was installed by Gordon Turner. Unfortunately, Michael Purcell could not be present due to business commitments, he will be invested as the immediate past first principal at the next regular convocation.
Colin Sharples was then installed as second principal, followed by James Wheeldon being installed as third principal. All the installations were performed with dignity and to the acclaim of all present. Once the remaining companions were admitted, the three principals were proclaimed.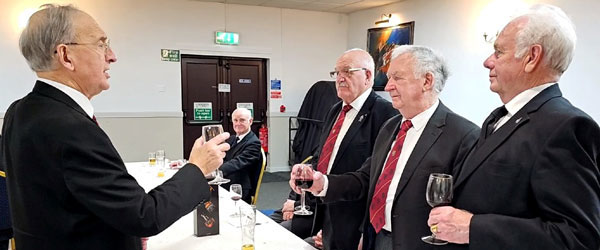 At the end of the ceremony, Colin Jenkins congratulated the three principals for taking office and the installing principals on an excellent ceremony and wished the chapter well for a productive year ahead. He then accepted three cheques from the first principal as charity donations from the companions of the chapter, these were to; West Lancashire Freemasons' Charity for £150, £100 to the Wigan Hospice and over £600 to Pemberton Masonic Hall. Colin thanked all the companions of the chapter for their generosity.
An excellent atmosphere prevailed at the festive board which followed the ceremony, with David Harrison singing the song to the three principals. All present agreed that it had been a splendid and harmonious evening from start to finish.