The 'Ceremony of the Empty Chair' was performed at a regular meeting of Vale Lodge No 5256 in November 2021 by the WM Stewart Aimson, director of ceremonies George Fox, acting senior deacon Paul Taylor and junior deacon Kevin Isted.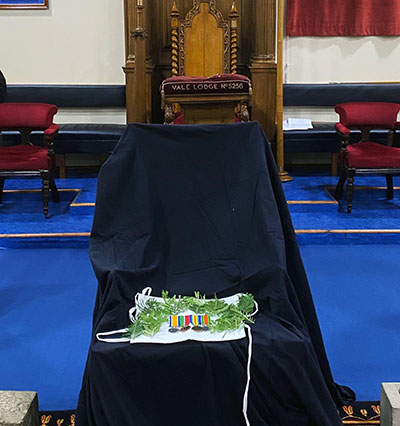 The ceremony is thought to date back to 1875, a decade after the close of the American Civil War when it was used in Masonic lodges throughout the United States to pay tribute to those who did not return from the war. Since then it has been used by many American lodges on Memorial Day to pay homage to those Freemasons who sacrificed their lives in the service of the United States.
The first Mason honoured was a British Freemason who was killed in action in the US Army on the northern plains. John Holt Beever is the first foreign Mason to give his life in uniform in service in the region, then known as Dakota Territory, which in the earlier 1860's extended westward to the Rocky Mountains from the Minnesota and Iowa borders, north of the Nebraska border. It included significant portions of the states of Wyoming and Montana as well as North and South Dakota.
The ceremony has been imported to the British Isles and is performed by Masonic lodges during Remembrance week. WM Stewart Aimson welcomed Assistant Provincial Grand Master Peter Schofield, accompanied by Past Assistant Provincial Grand Master David Grainger, acting Provincial Senior Grand Warden Dan Crossley and Lancaster Group Chairman Neil McGill, as well as visitors from other lodges.
The ceremony began with the deacons carrying an empty chair into the lodge room and placing it in the east and then covering it with a veil. The WM placed an entered apprentice's apron on the chair, together with British campaign medals and an acacia leaf. The ancient acacia represents renewal, fortitude, and pureness throughout the world. In Freemasonry it is an emblem for the immortality of the human soul because of the evergreen nature of this bush.
Those present were invited to form a circle around the empty chair and each placed an acacia leaf on the chair before returning to their seats. The 'Last Post' was sounded and words from the fourth stanza of Laurence Binyons' poem "For the Fallen" were read:
They shall grow not old, as we that are left grow old:
Age shall not weary them, nor the years condemn
At the going down of the sun and in the morning
We will remember them.
On completion of the ceremony, normal business of the lodge resumed and everyone retired from the lodge for brunch.