The Warrington Group's annual 'Celebration of Thanksgiving and Re-dedication Service' was held again at St. Elpins Church, Warrington. St. Elphin's Church has been a place of worship and been present on the same site since about 650 AD. The presence of a priest in Warrington was recorded in the Domesday Book. According to tradition, Saint Oswald built the first church for his companion Elphin, who remained the first priest until he died in 679 AD.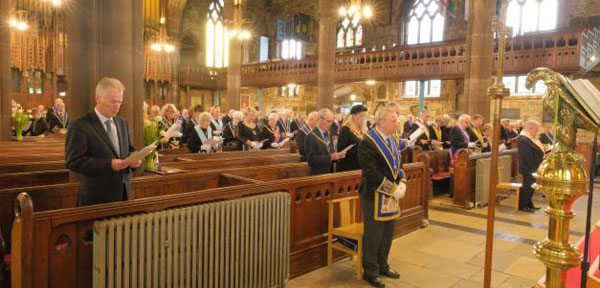 For many years, the annual church service has been a great occasion and is seen as a major event in the Warrington calendar. It provides a great opportunity for the group members and their families to come together and meet other families from the group to celebrate the annual church service.
The Warrington Group Chairman Andy Barton and the rest of the group executive were delighted to welcome the Mayor of Warrington Cllr Jean Flaherty and her consort, Terry Flaherty.
Upon arrival, The Mayor of Warrington, Cllr Jean Flaherty was greeted by several grand officers and distinguished guests which included; South Eastern Group Chairman Gareth Jones, Assistant to the Provincial Grand Principals Malcolm Alexander, Warrington Group Chairman Andrew Barton, Past Assistant Provincial Grand Master Kevin Poynton, Graham Williams, Intendant General Red Cross of Constantine Western Lancashire and several lady Freemasons which included Elizabeth Cartledge, Grand Sword bearer from St Clare Chapter No 29 and Ann Hunt, Grand Standard Bearer from Lodge St Clare No 204.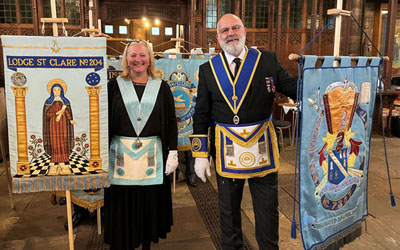 Boteler Lodge No 7367 was this year's designated lodge to host the service ensuring all distinguished guests, brethren and guests were seated correctly. Director of ceremonies Gwilym Jones started the service with a procession into the church which was led by the Warrington Group Banner and then the banners of each lodge followed by a procession of senior members of the Craft and other Masonic Orders, senior members of the Order of Women Freemasons, along with distinguished guests, together with group officials and the clergy.
The service was conducted by the Rector of Warrington, the Rev Canon June Steventon and Rev Debbie Lovatt. Rev Canon June Steventon gave a thought-provoking talk about the current state of the country and reiterated the importance of Masonry in our everyday lives, stressing the importance of being recognised as ambassadors for Masonry and not forgetting our Masonic lives when away from the Masonic halls and whilst engaged in our everyday business.
WM Rod Wilson and IPM Paul Santus delivered this year's readings, Rev Lee Marsh delivered the sermon and to complement the service Stephen Derringer played the organ. A collection was held and all monies were generously donated to church funds. Following the service, all who attended were invited back to Warrington Masonic Hall for light refreshments.