Derek Bowden enjoyed a wonderful celebration of 50 years in Royal Arch Freemasonry at Warrington Masonic Hall. The chapter was honoured to have a great turnout for the evening, 68 guests were in attendance for Derek's special evening in the presence of the Grand Superintendent Mark Matthews, Assistant to the Provincial Grand Principals Colin Rowling, accompanied by the Warrington Group Chairman Andy Barton and other distinguished guests.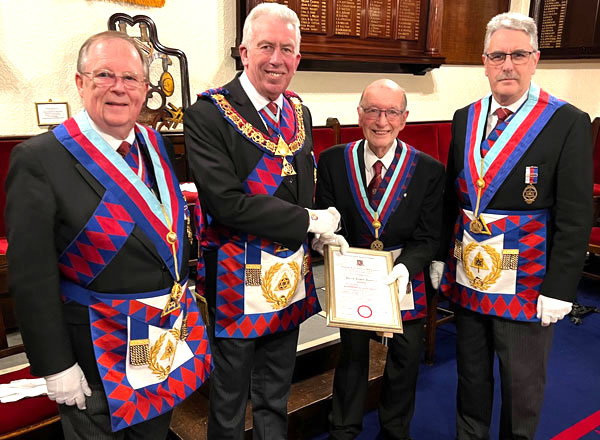 Colin Rowling delivered a wonderfully fitting tribute to Derek which was interspersed with some of Derek's favourite songs. Colin began by thanking Derek and the companions for allowing him to share with this 50th jubilee celebration in the Royal Arch. He said he feels honoured to do such a thing especially when he sees those who have assembled to witness the event and trace the development of this gentle man's life.
During several discussions Colin had with Derek he discovered Derek has a love of both Bing Crosby and Frank Sinatra songs, as well as the Beatles, and so Colin punctuated his presentation with music from Frank and Bing. An outline of Colins presentation follows, to read the full presentation, click here.
Derek, was born in September 1936, at Victoria Park Maternity Home Warrington, the only child of Edith and James. 20 days later he was baptised at St Elphin's Parish Church, and so started a life guided by strong Christian principles and beliefs.
Derek attended Bewsey Primary and Secondary Modern Schools where in his final year he became Head Boy.  Derek represented the school at football, rugby and cricket, and was also selected for Warrington Schoolboy's Rugby Team.
On leaving school in December 1951 at the age of 15, he started work at the longest established wire works in Warrington, N Greenings & Sons, as an apprentice engineering draughtsman. His first day at work was on New Year's Eve 1951 and his second day was New Year's Day, no holidays in those days! This also involved attending Warrington Technical College on day release for 6 years, studying mechanical engineering where he gained his HNC.
National Service then beckoned in January 1960 and Derek served for two years in the Royal Artillery as a Driver/Radio Operator, mainly in Germany, where he quickly realised it was a big advantage to gain a place on the regimental rugby union team.
Re-joining civilian life in February 1962, he returned to Greenings and Warrington Technical College, studying further engineering endorsement subjects in the evenings for another three years, which eventually led to him later achieving Chartered Engineer qualification and Corporate Membership of the Institution of Mechanical Engineers. (MIMechE).
In 1965 Derek worked for a number of iconic engineering companies in the North West, including English Electric, where he was a design engineer on the famous diesel engines, but the event of that year was held at St Mary's Church in Great Sankey where Derek and Doris were married. Doris, at the time, was a very successful town centre hairdresser.
In 1967, their daughter Elaine was born. She now lives in Reading and has two grown-up boys aged 22 and 25. In 1969 their son Stuart was born; he now lives in Sale. Both of the children have successfully made their way in the world.
In between the births of their two children, Derek moved jobs to Lockheed in Speke and into aircraft hydraulics and landing systems. This gave his claim to fame as you were responsible for the stress analysis and certification of the undercarriages of the Hawker Siddley Hawk, an aircraft which is still flown today by the Red Arrows.
In 1976 a move to the nuclear industry followed with a short spell at BNFL. Two years later, he joined Drafting and Technical Services (DATS), Widnes working on a design for a chemical plant at ICI Runcorn. Completing the contract in 1981, Derek gained a position as Head Office Engineer with Royal Sun Alliance Engineering Insurance in Manchester and in 1989 became Assistant Manager of the Special Services Division
Derek was initiated in the Lodge of Lights No 148 on 27 of October 1969, passed in 1969 and raised in 1970, a speedy progression in those days. He was installed as WM in January 1982 and there followed a series of offices in the lodge including several treasurer's jobs, lodge chaplain, ADC, preceptor, 1997 Festival Rep, auditor and in 2008 you became almoner a position he still holds.
Such application has been rewarded by being appointed PPJGD in 1991, promoted to PPSGD in 1998 and then PPGSuptWks in 2012.
In the Royal Arch, Derek was exalted in Elias Ashmole Chapter No 148 on 15 January 1973 and installed as first principal in March 1988. He has been the assistant director of ceremonies since immediate past first principal, an Auditor and has been the Group Representative since 2012.
All this work has been rewarded by an appointment as PPAGSoj. in 1995, promotion to PPDGSwdB and then further promotion to the extremely high rank of PPGSN on 9 October 2019.
His group activities include being the coordinator from 2010 to 2015 of the annual group church service of thanksgiving and rededication. Along with Doris, they are also members of the Warrington Masonic Fellowship, where he has served in the office of vice chairman for 2 years and chairman for 2 years.
Colin remarked: "Consequently Derek, in all of the discussions you and I have had, in all the conversations with other companions I've had and indeed all I've been told about you by others, there is a common attribute that stands out and that is with you, personal integrity comes first. Your adherence to Christian virtues makes you a true gentleman.
I would now be grateful if Andy Barton, the group chairman would assist me by reading the jubilee certificate."