On 27 March 2023, exactly 50 years since Leonard Fairclough joined the Royal Arch, Assistant to the Provincial Grand Principals Paul Hesketh visited Leonard at his home to celebrate a most happy and joyous occasion along with Kathleen, Leonard's wife of 69 years.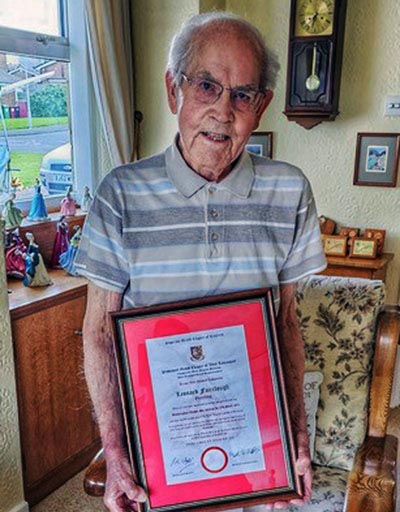 Leonard was exalted into Westhoughton Chapter No 4215 on 27 March 1973 and has enjoyed many great years as a member, becoming its first principal in November 1988. Westhoughton has a long and distinguished history, which has been augmented yet again, as we look back and celebrate 50 great years as a companion and Freemason.
Leonard was born in Westhoughton in January 1930. Also in that year, the first football world cup took place and Pluto was officially discovered and named as a planet. Other notable people born in 1930, besides Leonard, include astronaut Neil Armstrong plus actors Clint Eastwood and Gene Hackman.
After leaving school at 14 years, Leonard started a five year apprenticeship as a structural engineer. National Service in the Rifle Brigade followed and on his return to 'civvy street' he studied at night school and obtained a City and Guilds Certificate and Higher National Certificate in Structural Engineering with endorsements in advanced theory of structural engineering.
Leonard followed on from his own studies by teaching mathematics and technology to young students for several years at Bolton Technical College.
In 1993 Leonard was appointed to the rank of Past Provincial Grand Sojourner and in 1999 was promoted to the very high rank of Past Provincial Grand Scribe Nehemiah. He celebrated 50 years of Craft Masonry on 26 November 2020 and was treasurer of both Westhoughton Lodge No 4215 and Westhoughton Chapter over a 12-year period.
Together with his wife Kathleen he celebrated 69 years of happy marriage in December 2022, a union which produced a son David and daughter Carol.
On presenting his richly deserved certificate to commemorate 50 dedicated years in Royal Arch Freemasonry Paul Hesketh said: "For someone to have given 50 years of service in both the Craft and the Royal Arch to our charitable organisation is something to be extremely proud of. Leonard has been a great servant of the chapter, having held the position of treasurer for many years and having served in other roles".