In April 2023, Colin Talbot, along with his wife of 33 years Lena, was visited at his home address by Assistant to the Provincial Grand Principals Paul Hesketh. This visit was to celebrate Colin's 50 years since joining the Royal Arch; a most happy and joyous occasion.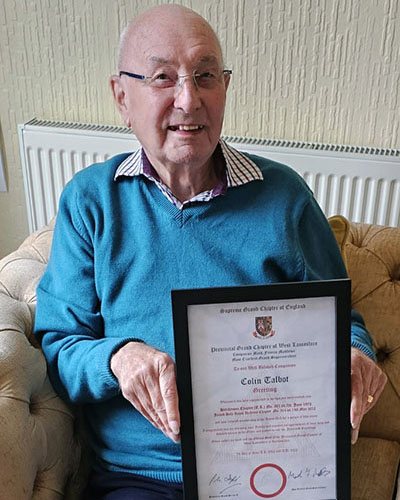 Colin was exalted into Hutchinson Chapter No 381 on 7 June 1972 in the Province of East Lancashire and he subsequently joined Horizon Chapter No 8948 of that Province and has enjoyed many great years as a member, becoming its first principal in April 2009, completing two years in the office.
In May 2012 Colin also became a joining member of Holy Royal Architect Chapter No 314 at Preston in the Province of West Lancashire. On 19 May 2015 Colin was promoted in East Lancashire to the rank of Past Provincial First Assistant Grand Sojourner.
Colin was born in November 1935. Also in that year, King George V celebrated his silver jubilee, Clement Attlee became leader of the Labour Party, the Hoover Dam was consecrated and Elvis Presley was born.
After leaving school, Colin later became the National Group Welfare Manager for Crown Paints which involved travelling up and down the country for many years. In 1973 to 1974 he held public office as the last Mayor of Darwen. The following year he became Deputy Mayor of what is now known as Blackburn with Darwen Council.
He was a very keen cricketer in his younger years and was an accomplished 'all-rounder' for Darwen Cricket Club.
Colin and Lena have three children in the family; Adrian 54 years, Roan also 54 years and Alison 49 years. They have one grandchild Charlie who is Adrian's son.
On presenting his richly deserved certificate to commemorate 50 dedicated years in Royal Arch Freemasonry, Paul Hesketh said: "For someone to have given 50 years of service in both the Craft and the Royal Arch to our charitable organisation is something to be extremely proud of and Colin has been a great servant and ambassador to Freemasonry.