Formed in 2017, the 'Light Blue Club' of the Freemasons of the Furness and South Lakeland Group was established to help the new Mason form firmer bonds of friendship across the lodges of the group via social and charitable events. Named the Cavendish Club, they have held curry evenings; visits to a local brewery; day trips to Chester races and many more – all for family and friends.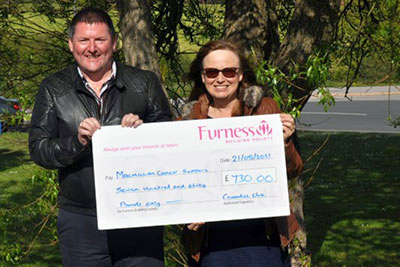 Even through the last 12 months, the chairman of the Cavendish Club, Gary Gibson of Hindpool Lodge No 1225 has over-seen visits to assist the central foodbank to 'store and stack'; a door step collection for the West Lancashire Freemasons Christmas Foodbank Appeal; delivery of pizzas to the nurses of Furness General Hospital as a small thank you for their hard work; plus, a great football sweepstake event organised around the Euro's Football competition this summer.
Spring 2021 has seen the club transition from a trot to a full gallop, as they held a virtual race night at the end of April. Stuart Allison of Ulverston Lodge No 7872 deserves a huge bale of hay for all his hard work – without his input, the night would not have been the success it turned out to be. Open to friends and families, the fun element of Masonry took a tight turn and definitely hugged the rails – helping Macmillan Cancer Support benefit along the course. The 'going' was very firm as each race was entered with 'Heart, Strength and Ambition'. It transpires that all were winners.
Those key sentiments of the Macmillan Support Team spurred the race goers during the event, assisting them to a fantastic total for their chosen charity of the evening. On the night, David Cottam of Piel Castle Lodge No 6099 and his wife Isabel, scored the most points and were deemed the winners of the race card! Gary was pleased to see so many friends taking part and enjoying the fun occasion but the best result of all was the collection of £730 which was to be presented to Sue McDonald of the Macmillan Support Team.
Currently all the staff from the Team are still working from home and meeting them to share a photograph was not possible. However, that will be rectified at a later date. Relationship Fundraising Manager for Cumbria and Lancashire Sue McDonald the was pleased to receive the donation and asked Gary to thank all those members of the Cavendish Club who took part and were so generous on the night. The extra funds would help the team to continue 'to do whatever it takes' to support those in need.
Gary's 'thoroughbreds' are under starters orders as the Cavendish Club looks forward to the next challenge when they are able to support their local community.