The Southport Group held its annual Christmas carol service at Emmanuel Church in Southport. This event was very well organised by Paul Heany of Southport Temperance Lodge No 2815 and officiated beautifully by his wife Rev Eileen Heany. Paul said: "She comes cheap" to which Eileen responded that she had doubled the fee this year!! Obviously, a couple who enjoy a little banter in their lives.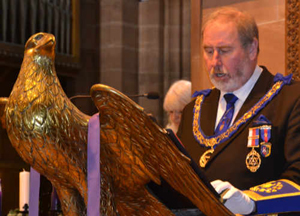 The service began with a parade of Provincial grand and grand officers of Craft, Royal Arch and Mark Masonry led by Frank Umbers, Assistant Provincial Grand Master and Maurice Evans, Past Grand Junior Overseer.
Eileen welcomed the brethren, their families and friends, then read a very amusing health warning. The brethren sang the opening ode and then the traditional nine carols and readings commenced.
The readers were, James Gray, Steve Booth, John McGrady, Rob Teesdale, Chris Latham, Debbie Matthews of the ladies' luncheon club (her husband, Mark, is the Chairman of Liverpool Group) Maurice Evans, Frank Umbers and finally Eileen Heany.
In-between the readings and carols Eileen treated the congregation to some amusing and thought-provoking comments, which were much appreciated.
During the service the congregation were entertained by the Banks Brass Band and the singing of carols was enhanced by the choir of Emmanuel Church.
Banks Brass Band was formed in 1875 in the village of Banks, which is about five miles north of Southport. It is a traditional English village brass band which plays at a variety of events throughout Lancashire.
After the singing of the closing ode the Masonic brethren paraded out of the church and refreshments were available in the church hall.
A collection for charity raised over £500 to be divided between Emmanuel Church and Zoë's Place Baby Hospice.
After a lovely service, many expressed their thanks and appreciation to the Rev Eileen Heany for the way she had conducted the service and to Paul for the way he had organised the whole event.