Preston Masonic Hall was thoroughly illuminated by Carnarvon Chapter No 2376 as the convocation gathered for the installation of a newly elected first principal for 2023.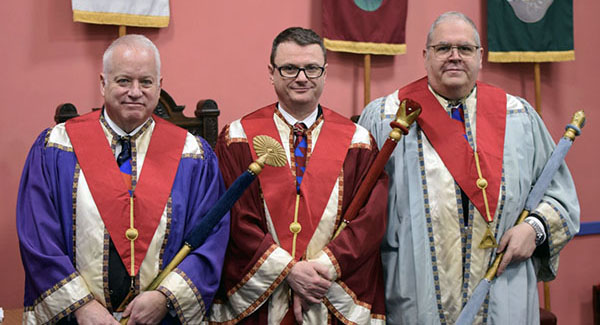 The warmth and friendship was clearly palpable as the companions enjoyed a very well worked and comprehensive ceremony of installation, with Paul Leaper being installed as first principal for the second successive year with the full blessing of the chapter.
The chapter was honoured to receive Rev Canon Godfrey Hirst in his capacity as Third Provincial Grand Principal. Godfrey was accompanied by Assistant to the Provincial Grand Principals Paul Hesketh and the Chairman of the Chorley and Leyland Group Peter Allen.
The robe addresses were delivered in fine form by Bill Swindlehurst, this being most notable for him being the first principal's father-in-law.
Following that, the address to the principals was delivered by Steve Hallam; the address to the officers by Dave Crossley and a fine, most compelling and engaging oration of the address to the companions of the chapter by Godfrey Hirst, demonstrating irrepressible passion and zest in his joy at being in the company of such a warm and welcoming chapter.
At the closing of the convocation, the companions retired to enjoy fine fare at a light-hearted and relaxed festive board, once again illuminated by Godfrey's impeccable and engaging response to the Supreme Grand Chapter toast.
The hearty relations at the chapter were evident for all to see and enjoy, and the future is indeed bright for Carnarvon.