Bryan Frederick Milner of Poulton le Sands Lodge No 1051 has achieved the wonderful milestone of 50 years in Freemasonry. The event was marked by a celebration held at Morecambe Masonic Hall and led by Assistant Provincial Grand Master Keith Kemp, who was accompanied by non-other than the Provincial Grand Master Tony Harrison. Tony, a member of the lodge, has known Bryan for many years and deemed it an honour to be able to attend Bryan's celebratory evening.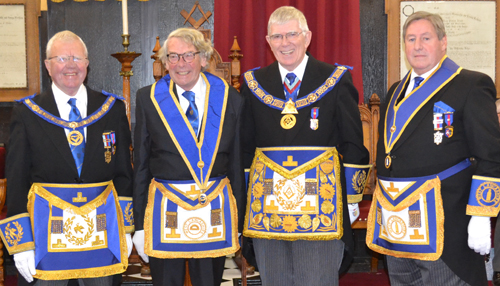 Also, in attendance at this special event were grand officers David Grainger and Phil Gardner, Lancaster and District Group Chairman Neil McGill, acting Provincial grand officers Paul Mason and Terry Ridal and group vice chairman and group secretary Scott Devine and Chris Larder respectively As befitting the occasion, this grand array of officers were superbly directed by the Provincial Deputy Grand Director of Ceremonies Barry Fitzgerald.
The WM of Poulton Le Sands Lodge David Morgan welcomed Tony into the lodge room and offered him the gavel. Tony kindly gracefully declined to accept and instead invited Keith to take his rightful place in the lodge, next to the WM. David rose once more and offered Keith the gavel, which this time he accepted.
Keith began his address by outlining the reason for the evening's celebratory event, together with some of the events that were happening in 1969 when Bryan took his first steps in Freemasonry. On conclusion, Keith asked the PDGDC to place the celebrant before him so that he may continue his address.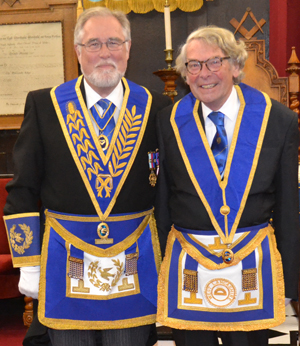 After making sure Bryan was sitting comfortably, Keith embarked on an absorbing and informative reflection on Bryan's personal, professional and Masonic life. A transcript of Keith's address can be found by clicking here.
On the conclusion of his address Keith asked the group chairman Neil McGill to read the commemorative certificate which the Provincial Grand Master Tony Harrison had caused to be issued, after which Keith asked Tony, given he was at the meeting, to present the certificate to Bryan. On conclusion, Tony thanked Bryan for all that he has done and wished him good health, continued happiness and the heartiest congratulation from all the brethren present.
During the festive board, the toast to the celebrant was given by a long-standing friend of Bryan's, Phil Gardner. During his speech Phil remarked how highly regarded Bryan was amongst Freemasons and that it was his privilege to have probably known Bryan longer than anyone else in the room. Before concluding, Phil congratulated Bryan not only on achieving his 50 years in Freemasonry but also on having, in his opinion, the most youthful outlook of anybody celebrating such an event.
Bryan responded to his toast and amid humorous tales of his past life, thanked each and every person for joining him in celebrating a memorable and highly enjoyable evening. A very enjoyable celebration concluded with the announcement that the raffle had raised £355.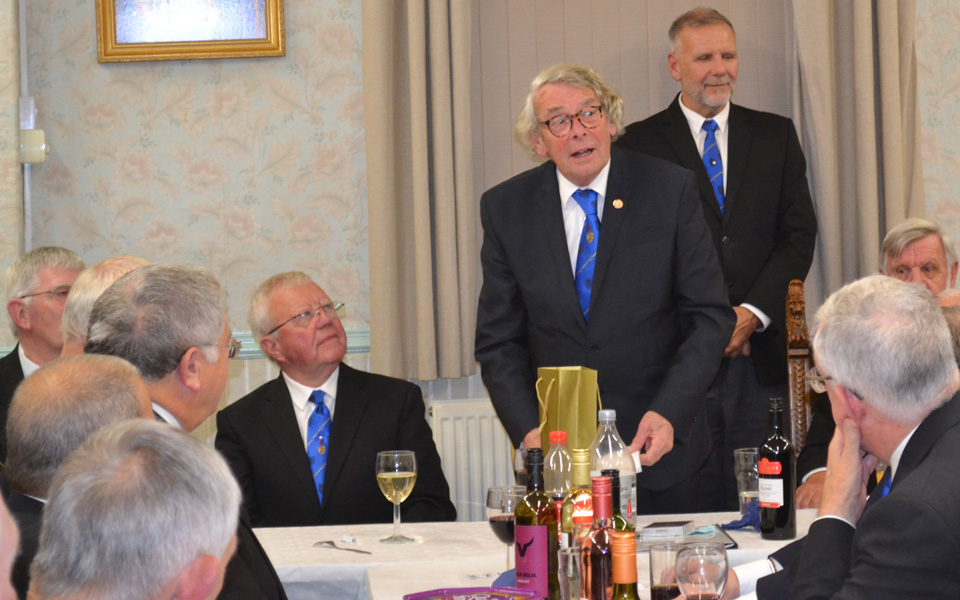 Article and photographs by Paul Thompson.