Not many brethren reach 60 years in Freemasonry. Even fewer do it while in the chair of their lodge, for an astonishing fourth time. But Bryan Henshaw has achieved that while in his 82nd year.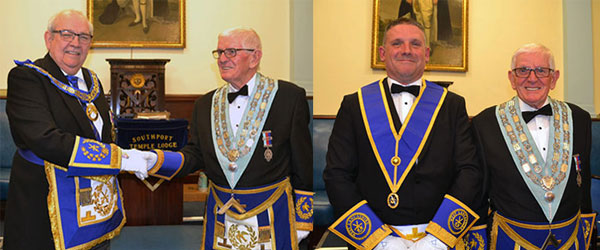 The ceremony at Southport Temple Lodge No 7526 was conducted by the Deputy Provincial Grand Master Philip Gunning who was accompanied by Assistant Provincial Grand Master Frank Umbers and Past Assistant Provincial Grand Master John Moore.
In his normal witty manner, Philip Gunning began by giving a potted history of Bryan's life so far. Born a war baby in 1941, Bryan made his mark from King George V School as an athlete, running for Southport Harriers in competitions all over the north of England.
When he left school, he briefly became a waiter, but not for long. He became an engineering apprentice for British Rail and eventually a member of the Institute of Electrical Engineers. After that he became a salesman for Nife Batteries (taken over by Chloride). Since then he has travelled the world in style, wining and dining his clients (which he is good at) and had a very successful and colourful career.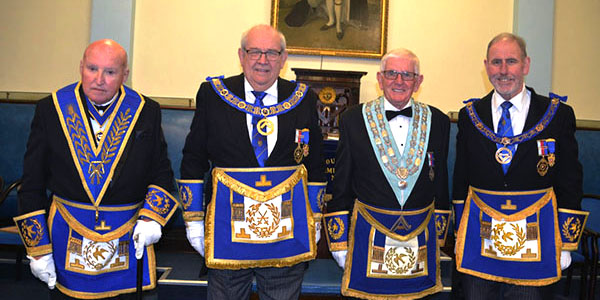 Not so successful has been his lifelong support for Nottingham Forest FC, although he is pleased to see them on the up again. He is a lover of fine wines and drives the continent in the summer in search of them.
Bryan's Masonic career started in 1963 when he was introduced and then initiated into Southport Temple Lodge in January 1964. Seven years later he was installed into the chair of the lodge. He was once again master of his lodge in 1985.
He was made a Past Provincial Junior Grand Warden of the Province in 1991 and a grand lodge officer in 2007. In 2008 he installed his son Graham in the chair of King Solomon and in 2011 he was master of his lodge yet again
He was the Chairman of Southport Group from 2009 to 2014. In between all that he was master of three other lodges and promoted to the rank of Past Junior Grand Deacon in 2018. He is known as a very good ritualist, who can fill in anywhere in the ceremony at the drop of a hat.
Bryan was a leading light in chapter and many other Masonic Orders, too numerous to mention. In concluding his address, Philip said of Bryan: "And so, you can see what a wonderful and varied life and Masonic career Bryan has had over many years, and many more to come we all hope."