Brookfield Ladies is a group of wives and partners of Masons who meet at Brookfield Hall (Westhoughton Masonic Hall) in Westhoughton. They operate totally independently of their husbands and partners to raise money for the hall and to support good causes in Westhoughton.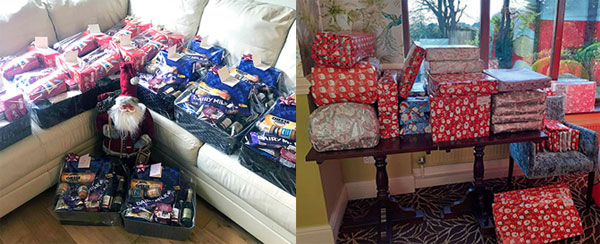 Although they have been in existence for over 20 years it is only since 2019, under new leadership, that they decided to become more involved within the community and try to build a better relationship with both Masons and the local community and to raise their profile.
A programme of fund-raising events was arranged, including a quiz at Westhoughton Sports and Social Club and a coach trip to Chester Christmas Market, with the sole intention of giving this money back to the community in other ways. Unfortunately, COVID-19 appeared and curtailed their fund-raising efforts.
The ladies have organised numerous events over the years within the hall, such as Macmillan coffee mornings, race nights, New Year's Eve Balls among others. The ladies have already donated in the community to the old folks Christmas party in 2019, followed by laptops for schools during lockdown and 20 hampers for the community at Christmas 2020. This year they have continued their excellent work by providing another 20 hampers to the community. The hampers were distributed to needy residents of Westhoughton by the team and were gratefully received by the lucky recipients.
Another tradition of the Brookfield Ladies is to arrange a party for the children and grandchildren of members at Christmas. This has always been well supported and is a completely free event for them. They have entertainment, food, and a visit and gift from Santa. This year was no exception and was a wonderful start to the Christmas celebrations.
Like many groups, the numbers are dwindling but the ladies feel rightly proud that that they have achieved what they set out to do way back in the beginning, but more especially so since 2019, bringing smiles to the faces of many lonely people