Semper Fidelis Lodge No 4428 is just three years short of celebrating its centenary meeting, so they know a bit about longevity. In recent years they have enjoyed several celebrations of a brother's 50th year as a Freemason. The ceremony to mark Brian Buckle's special day certainly lived up to previous occasions.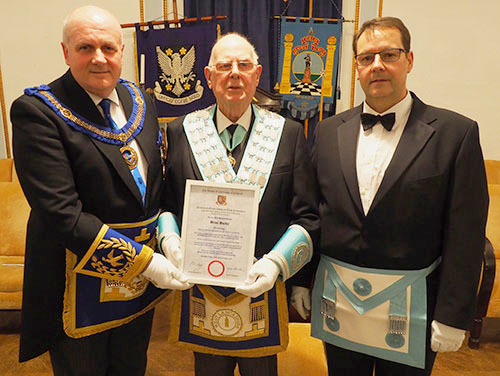 The lodge was pleased to receive Assistant Provincial Grand Master David Winder, accompanied by lodge member Past Assistant Provincial Grand Master Steven Reid. They were supported by Deputy Provincial Grand Director of Ceremonies Ian Halsall, along with several grand and acting Provincial grand officers. Having welcomed David Winder into the lodge the master then offered him the gavel and the Assistant Provincial Grand Master assumed the Chair.
In his introductory comments David regaled his audience with a flavour of what was occurring 50 years ago. Harold Wilson was Prime Minister, Enoch Powell delivered his 'Rivers of blood' speech and Martin Luther King was assassinated. On the sporting front Jim Clarke died while racing at Hockenheim and Neil Armstrong took a small step for man and a giant leap for mankind. On a much lighter note, it was the year when Dad's Army was launched onto our black and white television screens!
Brian Buckle was born at Guisborough, Yorkshire on 1 August 1937. His father, Walter Edward Buckle worked for Dorman Long as a steelworker. This company produced steel for the Sydney Harbour Bridge. Walter's expertise was as a steel straightener, working with heavy girders and railway tracking. It was hard physical outdoor work but his pride and work ethic and coming from a family with a mining background, ensured that he never missed a working day in his life, despite having to work extra shifts at weekends. As Brian's story unfolded it was apparent that he had inherited a steely determination to succeed. His mother Winifred or 'Win' as she was affectionately known was in total charge of household affairs, Dad literally tipping his pay packet to her without even opening it. His due reward, if he behaved himself, was some spending money!
Brian attended Providence Infant School and was found to be very bright and was left to his own learning devices, as his teacher concentrated on other pupils. Such was Brian's level of intelligence that on attending Northgate Junior School he started in the second year. On attending Grammar school in 1949 Brian was proud to be the first in his family to qualify and pass the examination to attend that school. He was one of only 28 boys in that year's intake. Attendees of the school had formerly been rich farmers, or landowners' sons who had gained places not necessarily on academic ability. However, following the 1944 Rab Butler Schools Act, pupils were selected solely on ability. Put simply, Brian was there on merit; no mean achievement with so few places from such a wide catchment area.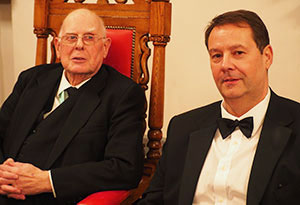 Brian was elected by his peers as form captain, a position he held throughout his schooling. He also captained the school cricket team, which played prestigious and hard fought matches against other grammar schools. He also captained the football team. While on the cricket pitch Brian's natural left arm leg break, was a natural phenomenon, which weaved its magic but he readily acknowledges that he was useless with the bat. In his fourth year Brian's sporting attentions turned to tennis and mixed doubles, to the detriment of his school studies as he met his life's soul mate, Jean, a third year student from Saltburn High. Spending evenings canoodling together put paid to other studies and having met at 15 and 14 years old respectively, they were engaged a year later!
Parents on both sides thought it was a little early but on Brian's grandfather agreeing to lend him £10 for a ring the deal was done. Their interest has never waned or faltered for each other in over 65 years, of which they have been married for 59. Needless to say, grandfather's faith in their relationship proved to be correct. Irrespective of no studying Brian still achieved 7 'O' Levels.
Prior to leaving school at 16 in 1954, Brian had written to ICI to express his desire to become an accountant. So impressed were they that Brian had been offered a job to start in the September without having taken any exams. He was not, however, enamoured with the setup of the bookkeeping section, where there seemed to be too many bosses, Fortunately, National Service came to the rescue and Brian had high hopes of being posted to Cyprus, Germany, or somewhere in Yorkshire. In typical RAF fashion, Lincoln Bomber Command at Hemswell would be his much loved allocation for two years, as a personnel clerk.
On being demobbed, Brian attended St John's College at York for two years, where he undertook and passed a teaching qualification. Jean had followed suit passing the similar qualification at Darlington. On both being successful they married without delay, tying the knot within a month at Guisborough Parish Church in 1959.
Ironically Brian's first school placement as a teacher was at Providence Infant School, his old school. Within a year the county school inspector had suggested a move to a new school, Guisborough County Modern. From here Brian's CV included Easterside County Primary School, Deputy Headship at Queens Road Primary School in Cheadle and Headmaster of a school in Denton, Manchester at the early and tender age for such a position of 32 years!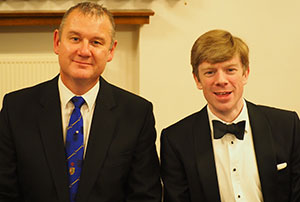 Still highly driven, as ever, Brian embarked upon further study while working full time and qualified as Bachelor of Education. This led eventually to the Headship of Hindwall County Primary School at Scarborough, a school in a deprived area, which had been labelled a vagabond estate. Brian's solution was to write to every parent, stating that he had 2 children of his own and wished to provide schooling for their children to the level that he would expect for his own. This and other initiatives would prove very successful and further enhanced the standing of himself and his school.
Still, Brian's thirst and desire to move onwards and upwards was not quenched as he took on a Master of Arts Degree at Durham University requiring 130-mile round trips to and from Durham on a regular basis after the schooling day. Only 19 out of 110 passed the Master's Degree and Brian was the only one who attained a 100% attendance.
Following this a plumb job came up as Head Teacher at North Stead in Scarborough. There were four applicants but the result was that Brian got the job resulting in the task of amalgamating two schools, which over 10 years of his leadership increased from 350 to over 620 pupils, making it the largest primary school in North Yorkshire.
Finally at the age of 54 and as Jean wanted to continue her teaching career the lure of retirement was irresistible. However, moss doesn't grow on a busy street and Brian became a voluntary prison visitor, attending a top security venue named Full Sutton, twice every month. Brian's visits involved forming a rapport with prisoners and through conversation and positive interaction attempting to improve their lives, outlook and prospects on release. Once again an example of his care for others and willingness to provide support to make that difference evidenced itself. Brian also became head of the Appeals Panel for North Yorkshire. This dealt with school admissions and disciplinary hearings, covering an area from Scarborough in the North, to Selby in the South and Richmond in the East. This Brian did for a period of 10 years.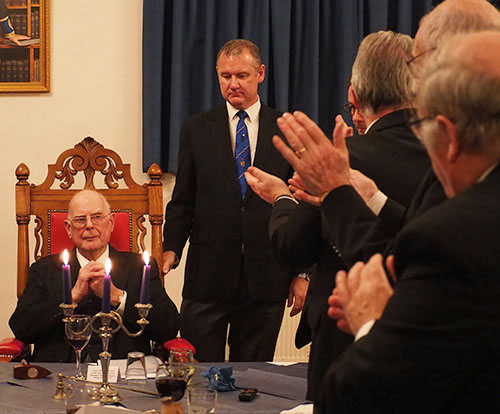 Brian and Jean are blessed with two children. Julie and John, two grandchildren, Michael and Nathan, and are great grandparents to Dylan aged four. Brian's sporting pursuits have continued with bowling and bridge, where Brian has served, unsurprisingly, as both treasurer and chairman. They both enjoy cruises and holidays to foreign climes such as Australia, New Zealand, South Africa, America, Borneo, Thailand, Singapore, Norway, Russia and Europe.
Freemasonry for Brian started when he was initiated on 25 April 1969 into Old Guisborean Lodge No 7793, after waiting on a list for two years. Philip Cooper who was a French Master at the school and Daryl Buttery, both founders of the lodge, proposed and seconded Brian respectively. He was passed on 24 April 1970 and raised on 28 May 1971, becoming master in 1981. In his year as master Brian formally visited on 56 occasions, so Jean as chauffeur was a busy lady indeed!
Brian resigned aged 70, due to the 130- mile journey each way in the dark and often in inclement weather. He had fulfilled the roles of assistant director of ceremonies in 1985 and 1986 and director of ceremonies 1987 to 1993. His commitment to Masonry was recognised by his first appointment in 1990 to Past Provincial Grand Registrar and then promotion to the high rank of Past Provincial Junior Grand. Warden in 1997. Whilst living in Cheshire it is noteworthy that Brian joined Oaklands Lodge No 5356 and whilst in Scarborough, Scarborough Lodge No 7147. Brian joined Dennison Chapter No 1248 and became first principal in 1986. He was appointed acting Provincial Grand Scribe Nehemiah in 1994 where he represented the Grand Superintendent on 11 occasions. Brian has also been a member of several other Masonic Orders in a very busy life.
When Brian and Jean retired they moved to Lytham and due to his first loyalty being to Jean, he thought that he could live without Masonry. He soon realised that that was not the case! His general practitioner was none other than Steven Reid, who offered to arrange visits to lodges for Brian at the Palace at St Annes. The first visit was to Semper Fidelis Lodge. Such was the warmth of welcome, Brian looked no further. With no aspirations his intention was to sit on the back benches but due to being asked to fill a gap, he took on the junior warden's role and then in typical fashion moved through to the master's chair, circumstances then seeing him extend that first year into two years!
Brian had told David Winder that he felt privileged to have been master for two years and had enjoyed every minute of it, adding that Freemasonry has provided cordiality, warmth and welcome and much friendship in a quality environment. Indeed a haven from the outside worries of day-to-day living. Brian said that he could not have been better received and that Masonry has been an extension of family life.
At the banquet that followed, the toast to Brian's health was proposed by his nephew Nick Myers, who had travelled from Redcar to be at this meeting. He thanked the lodge for the honour of being able to toast his uncle's health, saying that he was proud to be there. He described Brian as a leader and a great inspiration to many people, adding that his own sons have great admiration for and look up to Brian, who would be a hard act for anyone to follow. Brian replied by recognising the tributes paid to him and thanked them all and sat down to rousing applause.