An excellent evening was had by all at the celebration of Brian Edward Cunliffe's 50 years in Freemasonry held at Fermor Hesketh Lodge No 1350 at Litherland Masonic Hall. Once WM John Reed had opened the lodge the procession of grand and acting Provincial grand officers had entered the lodge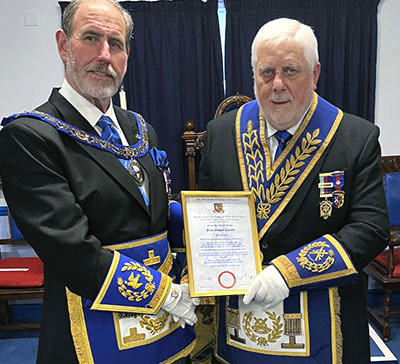 Assistant director of ceremonies Peter Littlehales introduced Assistant Provincial Grand Master Frank Umbers to John, who offered Frank the gavel which he accepted. Frank was accompanied by Peter Levick, Malcolm Alexander, Tom Lovett, and Chairman of the Ormskirk and Bootle Group Graham Chambers, along with acting Provincial grand officers Paul Shirley, Fred Dickinson and Richard McHale.
Frank asked Peter to escort Brian Cunliffe to a seat in front of the pedestal so that he could give an account of Brian's life and Masonic career and in his inimitable way, asked Brian if he was comfortable and could he address him as Brian.
Brian was initiated into Freemasonry in May 1973, joining Litherland Lodge No 3676 and becoming WM in September 1989. In 1991 Brian was appointed captain of stewards to host the Provincial Grand Lodge meeting in Preston on behalf of the Bootle Group. Brian, in his speech later, named this as one of his proudest days in Freemasonry. He received his first Provincial honours in 1992 as Provincial Grand Steward and later joined the Provincial Grand Stewards' lodge, Quingenti Lodge No 8516 and went on to become the lodge's WM two years later in 1994. In the same year at the November meeting of Litherland Lodge, Brian took the chair and it was with great delight that he initiated his son Ian into the lodge.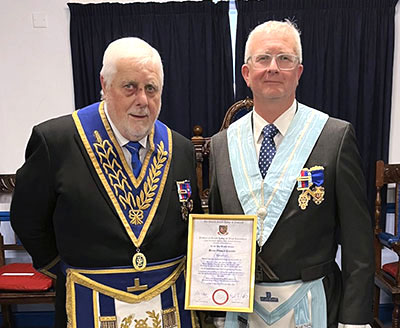 1995 turned out to be a significant year for Brian. He was invited to join the Bootle Group executive committee. He accepted and took on the responsible office of group vice-chairman, working alongside the then group chairman John V Moore, a position he held for seven years. In the same year Brian, along with John Moore, John Brooks and Ron Elliott joined Seaforth Lodge No 4038 to support the lodge's efforts. He marked time as the senior warden for four years, to enable the newer brethren to progress through to the chair.
He also became the Masonic hall vice-chairman and two years later went on to become the FROTH chairman and worked tirelessly for 10 years in that position until 2007.
For his continued service to his lodges and commitment to his group, he received a Provincial promotion to the rank of Past Provincial Junior Grand Warden in October 1996 and in April 1998 Brian travelled down to London to attend the annual UGLE investiture meeting at Great Queen Street, where, for his outstanding service and commitment to his lodges, his Masonic hall, the Bootle Group and Freemasonry in general, he was invested with the justly deserved grand rank of Assistant Grand Director of Ceremonies by our Grand Master, the Duke of Kent.
It was in the December of 2012 that Brian joined Fermor Hesketh Lodge and once again showed his commitment to Masonry by becoming the WM in 2021.
Frank also observed that at the time that Brian's son Ian was appointed as master of Sarastro Lodge in Vienna, Brian delivered the master's address to him. It must have been a very special moment for Brian.
Frank concluded his address by observing that Brian had set an example to us all with his devotion to his family, success in his working career and over 50 years of hard work and selfless dedication to Freemasonry. Frank then called upon Graham Chambers to read aloud the certificate from the Provincial Grand Master and Frank stood to present it to Brian. A standing ovation followed.
Brian's son Ian who had flown in from Portugal to be part of his father's proud evening then presented his dad with a bottle of single malt whisky on behalf of the lodge. At the festive board Ian again rose and proposed the toast to his father's health.