Chapter of Liverpool No 292 (founded in 1842) held its annual installation ceremony at Liverpool Masonic Hall. It was as to be expected, a warm and heartfelt meeting and thoroughly enjoyed by all who attended.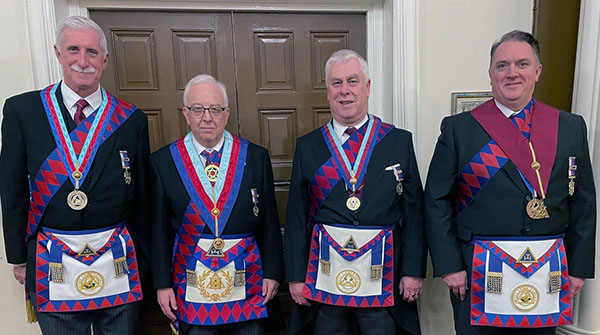 The principal guest was Assistant to the Grand Principals Malcolm Alexander, who was accompanied by fellow grand officer and chapter member Peter Connolly, along with acting Provincial Grand Stewards Alan Ball and John Karran. The representatives from the Liverpool Group were the chairman Dave Johnson and vice-chairman Tim Burgess.
The visiting delegation was warmly welcomed into the chapter room by the three principals who hoped they would all have an enjoyable time during the evening. The ceremony of installation was performed effortlessly and ran like clockwork thanks to the director of ceremonies Phil Pattullo. Tom Burgess installed both the new first and second principals, Brad Goff and Brian Jackson, while unfortunately the third principal George Christie was unable to be present due to recovering from a serious health setback.
On completion of the ceremony Malcolm Alexander expressed the good wishes of the Grand Superintendent to the members of Liverpool Chapter, after which the first principal Brad Goff presented three charitable cheques. These were to the Tithebarn Care Home for £125, the same amount to the international 'Smile' charity which is for the surgical treatment of cleft palate in children and £50 to the West Lancashire Freemasons' Charity.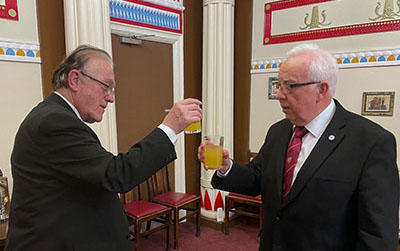 Following the installation, the festive board was again very similar to the meeting beforehand; one of pure enjoyment with all being relaxed in company they knew so well. In response to the toast given to him, Malcolm Alexander explained that the Pro First Grand Principal Peter G Lowndes has expressed his intention to resign his office. Malcolm congratulated Brad on becoming first principal again, having previously undertaken the role in 2002 and 2008.
Tim Burgess was thanked for his work as the first principal during the last two years and for the way he carried out his duties on the night as the installing principal. Both Alan Ball and John Karran were also thanked, not only for their presence that night but also for their commitment to the role throughout their year as acting Provincial Grand Stewards. Much appreciation was given to the chapter's director of ceremonies Phil Pattullo and scribe John Walker with regard to all the efforts expended in making sure everything ran smoothly, both prior to the evening as well as to the actual event.
Malcolm explained what was happening within Royal Arch and the pleasing response already to the survey that had been sent to all companions. He said that it was heartening to see so many taking part positively. Sadly, the evening drew to a close and the janitor was called upon to deliver the final toast of the evening.