James (Jim) Stewart, was duly installed as first principal, at the installation convocation of Carnforth Chapter No 4951. The ceremony was attended by the principal guest for the evening Past Grand Standard Bearer John Robson, who was delighted to have the support of his fellow grand officers Chris Band, Jim Wilson, Keith Lowson and Frank Clarke. Also accompanying John were acting Provincial grand officers Andrew Bartlett, Tony Cassels, Peter Pemberton and Chris Larder, who is also the Lancaster and District Group Secretary.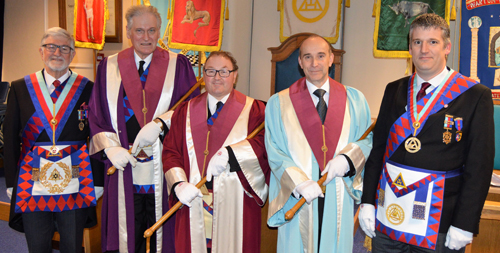 On entering the chapter, John was given an enthusiastic welcome by the installing first principal Philip Newby, who also extended greetings to the other grand officers in attendance. Having thanked all of the members of Carnforth Chapter for their help and support during his year in office, the three principals elect were duly installed in their respective chairs; Jim Stewart as first principal, Peter Wood as second principal and David Jackson as third principal.
The robe addresses were presented by three experienced companions of the chapter in fine style, namely Roger Nevinson (scarlet robe), Fred Frobisher (purple robe) and Alan Proctor (blue robe).
Following the completion of the appointments and investments of chapter officers, John rose to give greetings on behalf of the Grand Superintendent Tony Harrison, commenting that he was sure that Tony would have enjoyed the ceremony immensely and would have congratulated all who had taken part. Tony would have also taken the opportunity to communicate to all present his sincere wish that they continue to enjoy their Royal Arch Masonry. On completion of John's address, he was presented with a number of disbursements to Masonic charities amounting to £400.
Of particular interest within the chapter room at Carnforth, is a framed Ancient Royal Arch apron, dating back to circa 1790. The apron was discovered behind storage cupboards when the Masonic Hall moved from its original location in John street, Carnforth, to its new premises at Kerneforde Hall.
One of the first initiates of Carnforth Chapter was a Richard Gardner and the apron was originally presented to him by Simeon Hartley of Canna Chapter No 116, meeting at Colne in East Lancashire. Richard presented the apron to Carnforth Chapter in 1969 and for many years the apron was displayed at every meeting, but it then disappeared.
It has now been nicely framed and once again holds a prominent position within the chapter.
At the festive board in the banqueting suite of Kerneforde Masonic Hall, John in response to the toast to the grand officers, expressed his delight at having the pleasant company of his fellow grand and acting Provincial grand officers. Moving on, John proffered his personal best wishes to the newly installed principals and officers, wishing them all good health for the future. He had particular admiration for Jim Stewart, who has a round trip of 90 miles for each meeting, which shows his dedication to the chapter. John was also pleased to see Peter Wood progressing within the chapter and it would not be long now before he became first principal. Mention was also made of David Jackson, as it was especially nice to see a relatively new companion taking one of the chairs.
In conclusion John thanked the Scribe Ezra for his considerable help in making it such an enjoyable evening.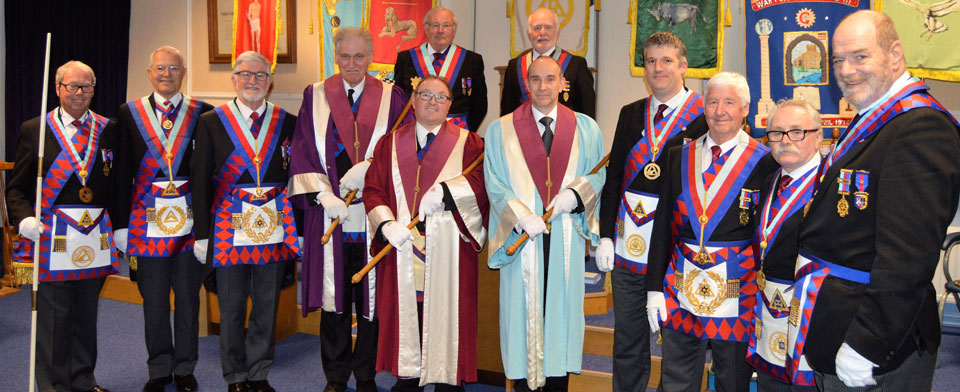 Article by Paul Thompson.
Photographs courtesy of Stewart Aimson.