When Philip Hughes took the chair of Borough Lodge No 3996 to assist the WM James Seddon, all present settled down to enjoy a first degree ceremony. It had been a while and all officers present had worked especially hard to ensure that the ritual was flawlessly presented and the candidate put at ease by an exemplary ceremony lead by Philip and the junior deacon.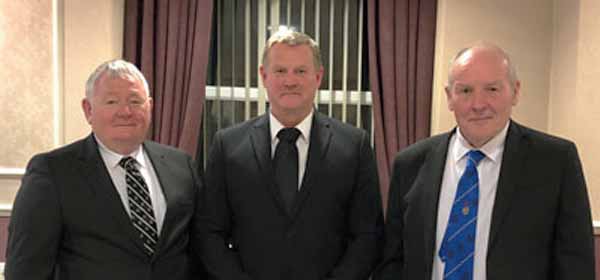 The perambulations and ritual showed the rehearsal that had been put in, and when the candidate, Alan Shaw, was finally brother Alan Shaw, the lodge room was filled with brotherly respect for a newly joined brother into a wonderful lodge.
The charge to the initiate was given with solemn dignity by the DC David Mallon and Wigan Group Secretary Chris Reeman presented Alan with a booklet explaining some parts of his initiation and the start of his daily journey into Masonic research.
The evening was brought into even more focus by the attendance at the ceremony of a visitor to the lodge from Western Australia, Alan Taylor PAGDC of Faith Hope and Charity Lodge No 195 had been welcomed into the lodge earlier and when the formalities of the lodge room were completed, a fine Bryn festive board finished and the necessary toasts made.
Following the toast to the visitors, Alan, in his response to the toast to the visitors, was able to give the initiate a very interesting resume of the ceremony that he had just witnessed, which all those present enjoyed and which will remain with Alan for many years to come.
By Ian K Dawson, Wigan Group Publicity Officer.