Everyone enjoys a bargain, and when members and visitors attended the installation meeting of Astley and Ellesmere Lodge No 730, they found out that, as well as the installation, they were also attending a celebration of 50 years of Freemasonry of John Lancaster. They had certainly bought one and got one free.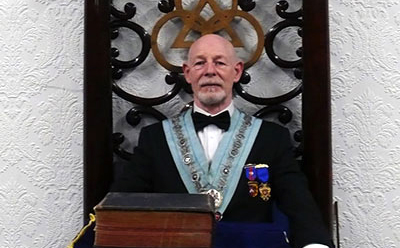 To make the evening even more special, the members and their guests were joined by Assistant Provincial Grand Master Peter Lockett, group chairman Peter Allen and group secretary Mike Silver, as well as three acting Provincial grand officers, Mark Humphrey, Antony Price and Ian Simm. The size of the Provincial team should have been a clue that it was to be a special night.
The installation was the first part of the evening, during which Andy McMath was installed in the WM's chair by David Hatchard and his team. Everyone played their part to ensure that Andy was installed with the highest standard of ritual.
It was an installation that his father, an honorary member of the lodge, would have been very proud to see but unfortunately, because of ill health, he wasn't able to be there.
Andy wasn't a stranger to the master's chair as this was his third time, having been in the Astley Lodge chair in 2007 and 2008, just before Astley Lodge No 6234 amalgamated with Ellesmere Lodge No 730.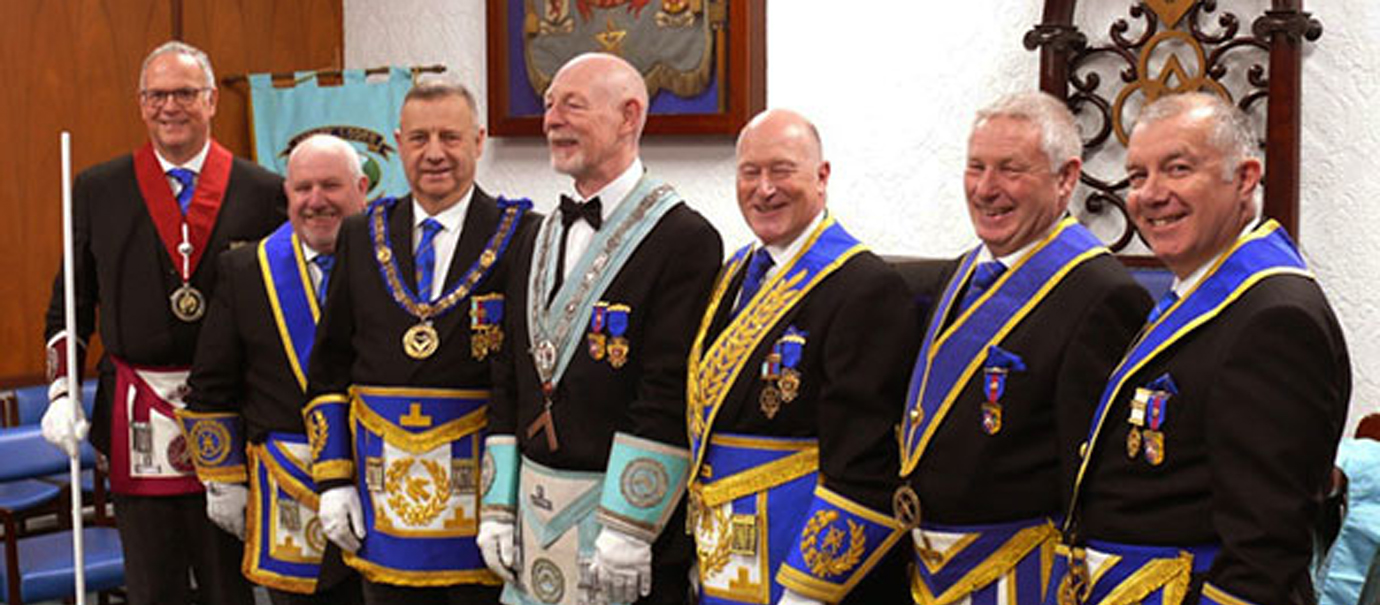 When asked why he was going back into the chair, he replied that he thought it would be a good idea! He said he enjoys his ritual and had been chaplain in Astley and Ellesmere Lodge since its amalgamation, so he has had work to do at every meeting, even if it was only prayers. He added that he had recently stood in as master in 2021 and at the installation meeting last year, then on a couple of occasions for initiation ceremonies and enjoyed it. "So I volunteered for another year in the chair."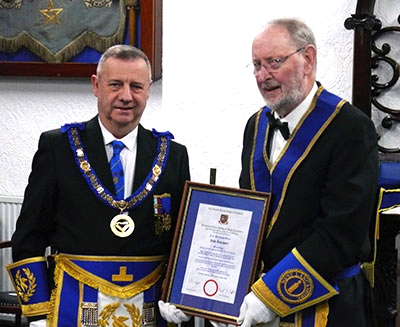 Andy is a joining member of Astley and Ellesmere Lodge having joined in 2006. He was initiated into Lodge of Antiquity No 178 in 1996. The lodge met in Wigan, then moved to Ridgmont House in Horwich when the Tower Buildings were sold.
Having been installed in the chair, the first job for Andy was to present Peter with some cheques for charity. These included £400 to West Lancashire Freemasons' Charity, £100 to St Laurence Church, £100 to Genesis Care, £100 to Derian House and £395 to the Chorley Masonic Hall Building Fund – a fantastic total of £1,095.
Peter thanked the lodge for their generosity and congratulated everyone on the standard of the work done during the installation. Whilst on his feet he told everyone that he was also there to celebrate John Lancaster's 50 years anniversary of his initiation. He said that John had chosen not to have a bells and whistles celebration but that he had brought with him the certificate which he presented to John. He thanked him for his years of service and jokingly commented that of his 50 years' service, John had been secretary for 49 of them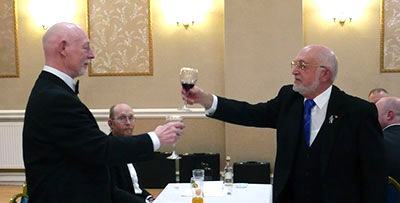 So finally, everything was revealed and everyone knew why the night was a definite Bogof meeting. All that was left was for Andy to close the lodge before everyone retired to the function room to enjoy each other's company at the festival of St John. The meal was a wonderful complement to the proceedings in lodge, enabling everyone to chat and catch up with friends old and new, to enjoy the traditional toasts and to raise £191 in the raffle.
As the night drew to a close the members were able to reflect on the past 50 years of service of John Lancaster and to look forward to a busy year with Andy McMath at the helm, certainly a meeting which had offered two events for the price of one.