After the WM Stephen Renney opened Hindpool Lodge No 1225 through the three degrees in fine style, Assistant Provincial Grand Master Peter Schofield was warmly welcomed into the lodge in order to conduct a very special occasion, the celebration of Bob Kett's 50 years in Freemasonry. Peter was accompanied by grand officers Barry Fitzgerald and Alan Jones, along with acting Provincial grand officers Joe Crabtree and Jim Scott, who added to the splendour of the occasion.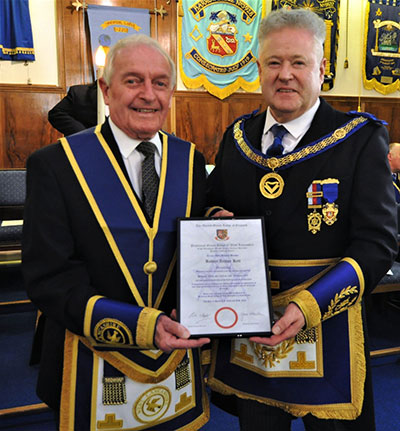 When offered the gavel, Peter gladly accepted it and expressed his pleasure in being able to mark Bob Kett's 50 years in Freemasonry. Peter called upon the principal officers and closed the lodge in the third degree and continued work in the first degree.
Peter quickly focussed the attention of the brethren attending, by reminding them of just a few events that took place in 1972 when Bob took his first steps in Freemasonry. The film 'The Godfather' was premiered; the railway line from Keswick to Penrith closed (but the good news is that the old track now makes for a beautiful walk); Ringo released 'Boogaloo' and beer was 18p a pint!
Born in Barrow-in-Furness in 1941, his parents, Ethel and Albert had moved from Liverpool to make their home on Coniston Road. Bob attended Oxford Street Infants and Junior School and Holker Street Senior School. Leaving school with 10 GCEs and an 'A' level, it is clear that Bob was rather studious! He enjoyed being a member of St Paul's Church choir and showed great promise playing cricket and badminton at senior school.
Furness College became the next stepping stone for Bob as he embarked on a course for mechanical engineering, gaining a Higher National qualification. Realising that education would provide a pathway forward for his future, Bob took another mechanical engineering degree course at the University of Wales in Cardiff. Although the entry requirements were rather steep in mathematics and physics, Bob gained entry and left with a BSc in Mech Eng.
Obviously enjoying studying at a very high level, Bob continued at Birmingham University in 1967 and left with a Master's Degree in Production Engineering. Whilst in Birmingham, Bob was able to hone his rugby union and badminton skills while playing for his university.
Bob moved back to his home town in 1969 and began work at the shipyard in a new research department, involving the gearing mechanisms of submarines. It was a shame, Peter declared: "Even with his vast knowledge of all things mechanical, he could not work out that his new Mercedes was only out of petrol when it had appeared to break down!"
A keen golfer, Bob joined Barrow Golf Club in 1967 and had held the role of club captain, club president and treasurer. He is still held in high regard by all the club members and it has been a shame that over the past two years Bob has not been able to play as regularly as he would have liked.
A great story teller, Bob has also been a member of the Rotary Club in Barrow for many a year and has been made an honorary member, being involved in charity events over many years. He had also made anonymous donations throughout the local area over the last 50 years – quite happy to support those not known to him.  His wider approach to helping the community has seen Bob support Barrow AFC through thick and thin.
Throughout his life, Peter explained: "Bob had shown great leadership and management skills, both within his career and Masonry." He married Julie in September 1966 and Peter, having spoken to them both, wasn't quite sure which one 'played hard to get' the most!  Still living in Barrow, they have two grown up children and five grandchildren. His daughter Caroline and son Steven have both achieved successful careers.
Bob took his first steps into Freemasonry on 15 February 1972, and was passed and raised in June and July 1972 respectively. In his long distinguished career in Masonry, Bob confidently performed in all the offices of the lodge, becoming WM in 1984 and later in 2014 as he helped the lodge bridge a progression problem.
Casting his eye over the management of the lodge's operations and systems, Bob began to introduce elements that are still followed to this day: the 'meet and greet' which takes place as brethren enter the Hall, no charges for visitors who stay for the festive board and a clear system of progression through the offices, so that junior brethren are aware of their future within the lodge.
Peter brought the hearty congratulations of the Provincial Grand Master Tony Harrison, who expressed his appreciation for Bob, having reached this milestone in his Masonic career. Chairman of the Furness and South Lakeland Group Gary Rogerson read out the certificate to Bob and on completion of the reading, it gave Peter the greatest of pleasure to present it to Bob and the opportunity to thank him for all his hard work in the past 50 years and those still yet to come.
At the festive board, Bob in an emotional speech, thanked Peter for his tribute and wondered in his usual humorous manner, who he was talking about!
He was definitely talking about the right person. Bob then sprung his surprise as he explained that the proceeds of the raffle would be sent to the Ukrainian Appeal. His addition to the lodge donation to the same appeal would mean a grand total of £4,300 would be donated to the worthy cause. Hindpool Lodge and the celebrant should be extremely proud of this kind and generous amount of giving. No wonder Bob is regarded so highly in all walks of life – and now an excellent role model for someone who has completed 50 years as a Freemason.